"What's a 'Brigade Chief of Operations'?"
The response I heard was similar to Charlie Brown's teacher. "Well, I report to blah blah, and am responsible for blah blah blah." There was a huge disconnect between the military job description, and what I've seen in the civilian sector.
Kyle, who is preparing to transition out of the U.S. Army, approached my colleague Nate and I during a recent networking session at Joint Base Lewis-McChord (JBLM).
"Most of us making the transition are swimming in information and people who say they are willing to help, yet cannot find anything or anyone that does just that."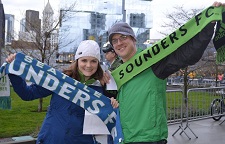 Kyle has extensive experience in operations and project management, but didn't know how to write a resume that would get him noticed in the civilian job market.
We spent our first 20 minute conversation discussing what exactly he had been doing in his current role. Similar to other veterans we've met, Kyle described his role and responsibilities in a way that made sense to him, but was foreign to most civilians; he didn't speak our language yet. Always armed with great questions and eager to learn, he took our feedback and reworked his resume to tell a great story, to speak to the roles he was applying for. It became something he was really proud of, and wanted to share.
When he told us he'd gotten the call to interview for his dream job, we could sense his initial anxiety creeping back in. Not only was he worried about talking about his experience in the Army, he hadn't interviewed for a role as a civilian for over 6 years and didn't know what to prepare for. Nate and I were ready and excited to help him with some of the key dos and don'ts of interviewing. We helped Kyle brainstorm questions to prepare for, helped him practice through role-playing and coached him on good questions to ask his interviewer. He walked into his interview feeling prepared and confident instead of nervous for this opportunity.
"Both of them took personal time to reach out to me, provided candid feedback, and continuously improved my marketability to join the civilian workforce. The countless hours of phone calls helped me professionalize my resume, prepared me for interviews, and assured me that I am ready to make a positive impact in my future career."
We're so excited to see where your hard work takes you. Keep crushing those interviews, Kyle!
Want to learn what our Veteran Hiring Team can do for you? Come visit us at the Hawks Transition Center on January 29th 11:00 am-1:00 pm, or contact Andrea Pulkkinen ([email protected]) Visit our Events page to get the details!