This September my best friend Lee signed out of the United States Army, and began a graduate program at the University of Washington. Lee served in Afghanistan and spent several years leading soldiers as a Captain.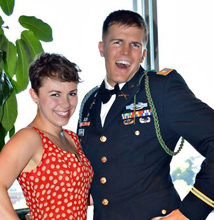 Those experiences have shaped his aspiration to help run a hospital.
Until I met Lee, I hadn't given much thought to the phrase "Thank you for your service". I think this is what people say when they want to recognize a military member's choice to put the needs of others before their own, but it doesn't adequately acknowledge their journey or pay back their service debt.
Witnessing Lee's passion around helping others, and knowing the sacrifices he's made along his path, I feel so lucky to be in a position to help. I've been able to translate his resume into a document hiring managers can understand, pass on my LinkedIn knowledge, and offer networking tips.
There are thousands of service members transitioning out of the military who have developed skills that would benefit any workplace, and are ready to pursue new personal and professional goals. I want to be part of a movement that stops saying "Thank you for your service" and instead, finds meaningful ways to pay their service forward.
At Populus Group, we believe in finding a way. By the end of 2015 we will be 15% veteran employed. We want to help our military members find success in the next chapters of their lives because they deserve an opportunity to succeed, and it's the least we can do.
Photo credit to Purple Giraffe Photography