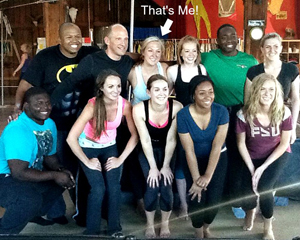 Sometimes, the best stories are the ones that continue to unfold.
I had been working on a role for a Human Resources Information Systems position – not a skillset I had worked on in the past. I struggled for a week and a half to find the right person to fill the role. Finally, after a long day and what seemed like a dead end, I spoke with Charlie*. Charlie was an awesome candidate. He had experience with the technology I was looking for, had worked in a similar environment, and had a shining personality to boot.
Charlie went through the process and was ultimately offered the position. When we went to offer, we were able to get him a significant raise from what he was making, about $10k/year. He deserved this pay and was getting fairly underpaid in his last role. He was so thankful and so excited about the new opportunity.
Of course I knew Charlie fairly well from working with him through the recruiting process, but honestly, it wasn't until we met face-to-face a second time, after he started working at his new role, that we got to talking more personally.
It turned out that Charlie was so much more of a dynamic person than I had known. He was getting ready to adopt a set of siblings, had plans to go back to school for a second degree, was getting married in less than a year… so many major life events coming down the line. I hadn't realized just how significant this new role would be in his life and upcoming endeavors. I walked away from our late lunch meeting feeling moved by his inspiring path for the future and really thankful that I was given a chance to be a part of him achieving his dreams.
Undoubtedly there is a ton of stigma around recruiters; that we are money-hungry or just in it for the chase. However, just like the people I help to find jobs, I know money isn't everything. Moments like these are why I do what I do. I love the chance to help someone's future become brighter. Whether it's that promotion or someone's first job out of college, I love what I do because I get to help people achieve what they truly want to do now and in the future.