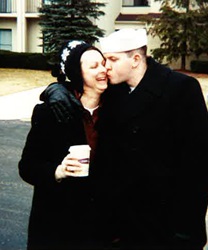 We get to work side-by-side with some amazing military veterans who have shared some great stories with us. Here's the first of many more stories to come.
What is it actually like to enter the civilian job market as a military veteran?
I've been told, as many others have, that employers look at military veterans like they do college students; each putting four or more years into a challenging endeavor, and upon completion, they've developed into men and women ready and able to enter the workforce. When I transitioned out of the military, my reality was different. Ultimately, I didn't feel as though I had the support to get where I wanted to go professionally.
I learned a very important lesson that I should have taken away from my military experience, to put my pride aside and ask for help. What I came to realize is that when you ask for help, people will come out of the woodwork to offer their services. But first it takes the courage to ask.
My moment of clarity happened much later than I would have liked, because there were years where I didn't want help. After a recent yearlong struggle of getting nowhere in my job search, I reached out to local colleges and asked for anyone to help me find a job. I soon found prior military members responsible for placing veterans with jobs, who had also been through the same struggles I had. Through this I met Wesley from Bellevue College. He listened to my story and struggles, and because he could relate, I found the courage to ask for his help. He then helped me translate my military experience in a way that hiring managers would understand and could relate to. From there I had interviews lined up around the corner and was hired soon after by an organization that accepted me for who I am, a veteran; and a smart, capable team member.
Now as a recruiter, I'm inspired to do what Wesley did for me, to help veterans who might not even know they need it.
Check out the article from ere.net that inspired me to share my story, A Conversation, Not Just Technology, Can Help You Hire A Veteran