Faith is defined as the confidence or trust in a person, thing, view, doctrine or leader. It is the assurance of things hoped for; the conviction of things unseen. I learned that faith, trust and belief are the universal breath that unites us in our journey through life as we all strive for the same end result.
Every belief you hold manifests itself by causing you to take some form of action or inaction. If you don't believe or have faith that something is possible, you won't even attempt it.
I've had to rely on faith when starting something new with no idea how to do it, when challenged to go beyond my comfort zone to hit a larger goal, or when imagining a better version of myself. I've had to step out on blind faith and trust that I can meet the challenge. Faith is trusting that whatever is around the corner is something I can handle.
When you believe you're going to succeed, this belief governs your decision making. You act boldly and fearlessly, bounce back from mistakes, and think expansively. I strive to not consider failure as an option and as a result my decisions are grounded in a place of confidence. I have faith in my ability to succeed just as I have great faith in your ability.
I have faith in our company's mission and the direction our leadership is taking us. I believe in not just what we do, but why we do it. But faith is more than believing in your company; it's trusting your career path.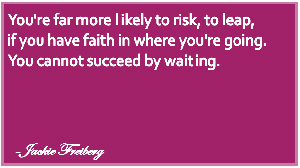 You have the power to control your life and current circumstances. What you do or create today, ultimately impacts your destiny.
Remember, it's just a matter of jumping into the river. Eventually you learn how to swim, and you say "Ah, I get it. This is how you swim in this river." But you had to jump in to find that out.
Life is an immersion experience.