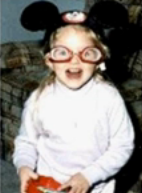 Everyone loves to hear a provoking real-life story, right? Some of life's lessons are best learned through the humorous, emotional, and memorable tales of others. Each month, one of our employees shares their personal journey with us and now we're sharing their story with you. Introducing PopTalks—incredible people, remarkable stories.
The thesaurus supplies us a spectrum of words to describe the unique attributes of our personality that some of us proudly share with the world like a glittering crown, and that some of us frantically shove deep in our pockets with the hope that it never falls out.
As an introvert, I prefer to wear mine as a pair of snazzy socks. For the most part, it's hidden away out of sight. Get me comfortable though, and I might show you a flash of that personality.
Regardless of how you wear it, don't ever forget to put it on. Embrace the things that make you weird, and carry them with you every day. It doesn't matter if you broadcast these quirks to the world, or if you keep them close to yourself. The important part is that you don't shove them in an old shoebox, to be left on the top shelf of your closet with your other unworn clothes. Embrace the things that make you weird, and carry them with you every day.
These quirky attributes are what allow us to look at problems from unique perspectives, and allow us to design creative solutions. The best ideas we have incubate inside of us. They are a product of our past experiences and our current environment. They are possible because of our ability to question why or why not. And the final secret ingredient: you. You and only you – in all your bizarreness – can look at a problem through your lenses. To pretend that a part of you doesn't exist is removing clarity from that perspective. Doing that means lost ideas and stagnation of progress.
And the worst part of all, it means the loss of who you are. The world will grieve that loss. So as you get dressed every morning and decide who to be, pull on your peculiarities however you like, and take them with you.