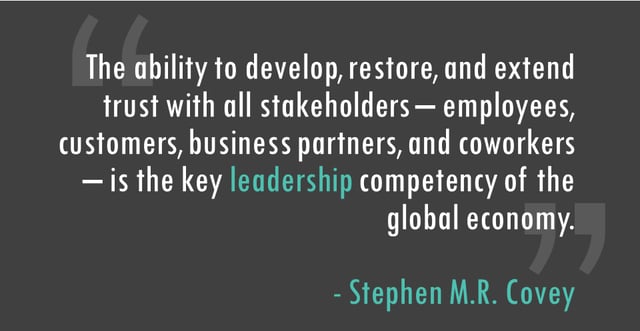 A foundation of trust is arguably the most critical component in any successful relationship in life; whether it be personal, business, sports, religious, military, civic, or even within government entities and nations. Conversely, you can easily prove the opposite – look at any failed relationship in history and it's almost certain that the primary reason for failure stemmed from a lack or loss of trust. If the concept of trust seems so commonly understood and elementary, why do we focus so little on building trust in every relationship we have?
We believe so strongly in this concept that we've partnered with the world leaders in trust, FranklinCovey. Their program, Leading at the Speed of Trust, provides a simple, proven template for organizations of all types to better understand and embed trust as the foundation of a company's culture. No matter how strong the product or service offered, without strong trust across all stakeholders, a company will never reach its full potential.
While this program is aimed at business users, the concepts transcend any relationship we encounter in life. It's easy to connect the dots and apply the material to every relationship in our lives. However, as we learned in our time with the FranklinCovey team, the creation of new habits is often simple, but not easy.
Here are the three key things I learned about building trust:
1. See – Speak – Behave Model
"You can't talk yourself out of a trust situation you behaved yourself into. You must behave yourself out."
-Stephen R. Covey
This model summarizes the importance of behaviors associated with trust.
2. Four Cores of Credibility
Integrity, Intent, Capabilities, and Results are the four cores of credibility by which we extend, build, and maintain trust with our stakeholders.
3. Declaring Intent
One of the simplest methods to create transparency between stakeholders is simply to declare your intent at the beginning of any conversation. This step is often overlooked and is critical in clarifying your communications and avoiding trust taxes with your stakeholders.
It takes an incredible amount of energy and intentionality to build deep trust. Are you willing to apply the effort needed to build trust with all of the stakeholders in your life?