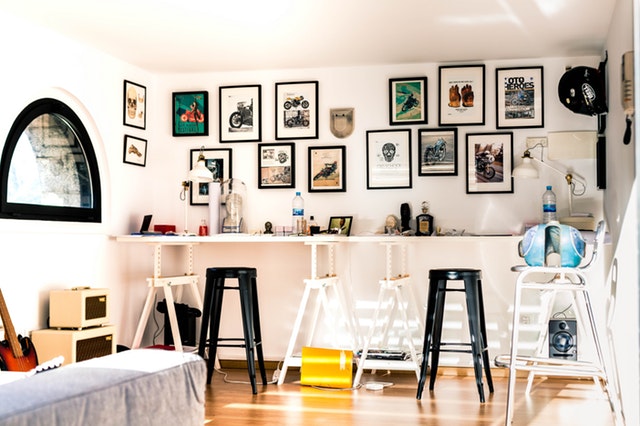 As of last week, our whole company has been living that WFH Life (work from home), which is a big adjustment for many, but we believe this is an important and necessary step for the health and safety of our communities. We're grateful to be in the position to do this, and our hearts go out to those who don't have this privilege.
Working from home comes easily for some, and not so much for others. And depending on your set-up and coworkers (see pets, children, spouses, roommates, etc.), it can be hard to balance, and hear what everyone else is saying on that conference call! For those who also find themselves in the #WFH boat, we've rounded up our best tips and ideas for how to make the most of it!
1) Make your space look and feel inviting
Create a designated work space if you can. We know not everyone has a home office (oh the luxury!), so whether you're posted up in your living room, bedroom, or even a walk-in closet (you know who you are 😉), it can be difficult to make the adjustment. Here are some tips to make it more enjoyable:
If possible, sit somewhere with plenty of natural light.
Decorate with some art—for parents: bonus if it's from your kid!
Keep your space as neat and tidy possible. This helps the blur of work and home feel less chaotic and more organized.
If you're looking to boost the good vibes, bring in some some fresh flowers (or branches!).
Burning a candle (or two!) can make your space look (and smell) more cozy and relaxing.
If you have one, run your aroma therapy diffuser!
2) Take Breaks!
When you work in an office, there are natural breaks and times to socialize throughout the day. When you're WFH, that can be more difficult. Make sure to step away from the laptop so you can allow yourself to reset throughout the day. Get fresh air, switch those loads of laundry, load the dishwasher. It's okay not to sit at your computer, head down, for 8+ hours straight—in fact, research shows that can negatively impact your productivity and problem-solving abilities!
Special note from Stef DeStef: Especially for the working parents with the kiddos in the house. Make sure you visit with them and remind them how important they are while you work.


3) Drink Water
Most people drink water in the office but don't always do it at home. Staying hydrated helps people's thinking and problem-solving abilities—crazy stuff! Bonus: being hydrated will force you to take breaks because you will have to get up and go to the bathroom. 😉
4) Get Dressed!
As tempting as it can be to work in your jammies all day, taking the step of getting dressed--even if it's in sweatpants and a t-shirt--can help you feel ready for your day. Getting out of your "sleep clothes" will signify a change in the day, from off-work to working hours.
5) Set Working Hours and Goals
Stay on top of your day by setting hours and a routine. Designate times for meetings, calls, and focused work. Make a to do list in the morning, and keep track of what you cross off throughout the day. The next morning, review and set new ones. Even though your boss and team aren't down the hall, you'll feel more accountable and productive.
6) Eat Smart
Your normal breakfast may be a quick granola bar and office coffee. This is a rare time when you can actually prepare yourself a fresh meal. Treat yourself to a delicious coffee routine, fry up some eggs, or actually cook yourself lunch! If you can stock up your home with some healthy snacks, that's also a great way to stay healthy and productive by avoiding those sugar highs (and lows).
7) Leave Work at Work
Even though you're at home, set some boundaries for yourself. Work is important but it's not everything. As much as you can, set a clear line of when work ends, and your home life begins. If you normally workout or read before work, continue that routine. Facetime with friends and family! This will help you stay fulfilled, refreshed and connected to your loved ones.
8) Be gracious and understanding
This is a big change for people. Everyone's WFH situation is different, so giving those you work with some extra grace and compassion is more important than ever.
A Special Thank You to These Climbers for Their Contributions!
Stephanie DeStefanis, Manager of Organizational Development
Austin McCool, Customer Experience Coordinator
Brooke Stovall, Immigration Specialist Manager
We'd love to hear your work from home tips! Let us know what helps you get the most of your day in the comments below!