In May 1992, May was signed into law as Asian-Pacific Islander (API) Heritage month in the United States.
This month, we celebrate the rich heritage of Asians and Pacific Islanders in the United States!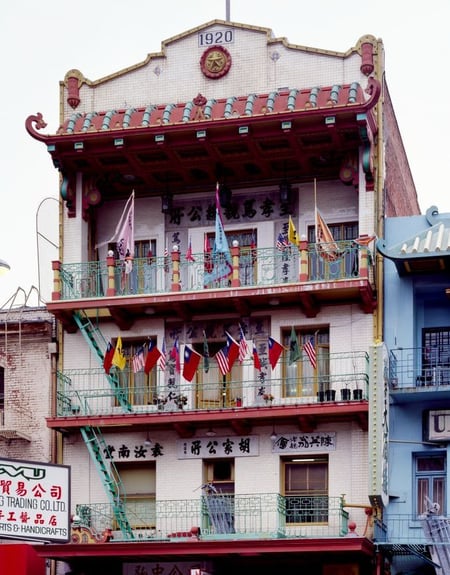 Image via Library of Congress
Why May? May 7, 1843 marked the first immigration of the Japanese to the United States. And on May 10, 1869, the transcontinental railroad was completed--of which a majority of laborers laying tracks were Chinese immigrants.
People of API descent have been in the United States for years, contributing so much to the society we know. Some notable names: Yo-Yo Ma (a Grammy-winning cellist), Jerry Yang (co-creator of Yahoo!), and Daniel Inouye (the first Japanese-American to serve in the U.S. House of Representatives).
So to celebrate API Heritage Month, we wanted to share recipes! Let's be real, food is a huge part of any culture, and it's definitely important in API culture. We asked our very own PG API community to share some of their favorite recipes along with a story--read them below and happy cooking (+ eating)!
Delicious Recipes:
Disclaimer: Eliana says she's still learning so linked a recipe!
Using simple ingredients, this recipe has been the hardest for me to recreate. Growing up, Ukoy was one of the foods my family made sure to order for parties! My cousins, sisters, and I would take multiple visits to the table where the server would fry these fritters to order. We would eventually get cut off because there would be no more left for the servers to make--the adults would scold us for eating too much fried food! Since this recipe originated in a province far from where both my parents come from in the Philippines, it was only served to us through catering. No one knew how to teach me to cook and now I'm older. I tried, but it always ended up too soggy and I end up getting Korean BBQ instead...
Since I'm still learning how to make these, here's a recipe online!
Enjoy (and good luck!) 😊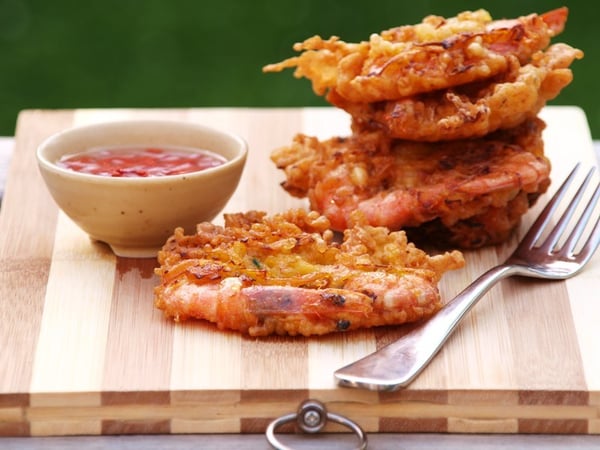 Image via Ang Sarap
Pinakbet (Utan) by Kaela Higa
The story behind this recipe is that it's been passed down generation to generation (lots of you can relate!). My great-grandma and great-grandpa moved to Hawaii from the Philippines. Here, they raised my grandma along with her 2 sisters and 3 brothers. Our family's always been tight-knit! My grandma inherited this recipe from my great-grandma, and my mom from my grandma. Growing up in Hawaii was amazing--we would have huge family dinners every week. Rather than driving to visit family, we had the luxury of walking right around the corner and, boom, we were there. I grew up loving [select] Filipino food, but of course my grandma always said, "Ana ko, eat what get, don't be picky or you can starve." You could hardly make that out because her accent was so strong! Well, the outcome of this? I ate what she made and it grew on me. Fast forward to my teen years and my grandma was my best friend. I spent almost everyday with her (minus working or going to school). She pretty much raised me. Every day she asked, "Kaela, what you like eat for dinner? It's only us two so don't get too crazy with options." It always resulted in her saying she wanted "Utan" or "Pinakbet." To me, this is comfort food and I definitely want to pass it down for generations to come!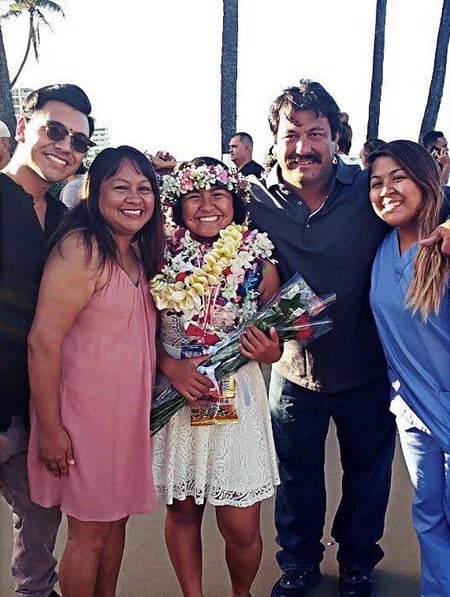 Ingredients:
2 eggplants, cubed

1 bunch of long beans, cut into 2" pieces

3-4 long squash (small so can cook the seeds), cut into 1' cubes

1 tomato, sliced

1 tbsp. garlic, minced

1 onion, diced

Patis (fish sauce)

Shoyu (soy sauce)

Salt & pepper, to taste

2 lbs. pork shoulder
Instructions:
Brown the pork with garlic, onions, and tomato. Then drain the oil.

Add water, long beans, and squash. Simmer a little then add eggplant.

Add patis (but not too much). Add shoyu, salt, and pepper.

Simmer a little more and taste. Should be soupy!
Leche Flan by Rosemarie Fontela's Daughter
Parties are the known achievements that us Filipinos are so proud of! I say achievement because Filipinos always take extra steps to top the last family event. Most of the efforts are put into the food spread that's normally double what's needed. We overcook on purpose so that 1) we never run out of food and 2) so guests can take home "baon (packaged leftovers). The staples of Filipino parties are pancit and lumpia, but there's also a popular dessert found in almost every party--leche flan!
Growing up, I wasn't as big of a fan as I am now with leche flan. Flans are made acoss other cultures too, but Filipino leche flan will typically be sweet and covered in browned sugar syrup. Some like them airy with bubbles, and some (like me!) prefer a smooth texture. The consistency depends on the baker's method and patience!
Recently, my oldest daughter grew fond of leche flan and decided to play around with some recipes. After a few tries, she perfected it just the way I love it! Now, family members will ask her to make it for special occasions. I'm so happy I get to enjoy the best leche flan, but I'm even more proud that my daughter has mastered the best traditional Filipino dessert that my mom, grandma, and almost every auntie made for us to enjoy all these decades.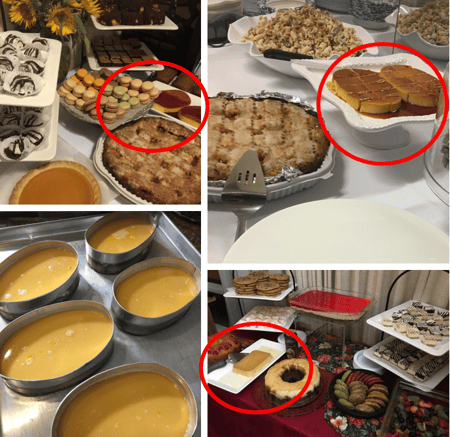 Ingredients:
5 tbsp. sugar (in each llanera mold)

12 egg yolks

1 (14 oz.) can sweetened condensed milk

1 (12 oz.) can evaporated milk
Instructions:
In a bowl, separate yolks and stir in condensed milk and evaporated milk SLOWLY (try not to create air bubbles).

Put the sugar in each mold and melt it over the stove top. Set them to the side to cool.

Pour the mixture into the molds (about 3/4 full) with a strainer. Cover the top of each mold with tin foil. Place in a baking dish.

Create a water bath by filling the dish, halfway of the molds, with water. Bake at 375 for an hour. Let the flans chill in molds and fridge. Serve (or eat by yourself) and enjoy!
Adobo by Joy Bartolome's Dad
I left the Philippines when I was 2 to live in other countries overseas, but regardless of where we lived, my parents always made the BEST Filipino food. Whether Azerbaijan, Singapore, or the US, Filipinos find their community and come together--always with food. Adobo is still one of my favorite foods and reminds me of home where a huge chunk of my family still lives. We always had it at Christmas, New Years, birthdays, or just a casual lunch! Filipino food is so comforting because it reminds me that family will always be there, no matter the distance.
My dad's recipe is actually a take on my grandma's (which he has yet to perfect). I'll be honest, I did prefer my grandma's, but dad's comes a close second!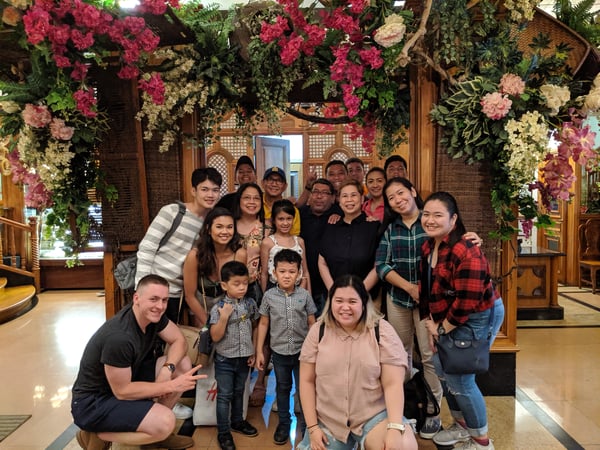 Ingredients:
1 lb. chicken (thighs preferred) or pork
1:1 ratio soy sauce + vinegar (totally depends on the amount of meat you use; Silver Swan is a good soy sauce and Datu Puti for vinegar!)
5 cloves of garlic, finely minced
Whole peppercorns + cracked black pepper (as much/as little as you'd like)
Potatoes, roughly chopped (optional, and you can add as little/as much as you'd like)
Steps:
If using chicken--
Place chicken into a large pot.
Pour soy sauce + vinegar (enough to cover chicken halfway).
Add garlic + pepper (as little or as much as you'd like). Mix it up & combine em' well!
Bring to a boil, then once mixture is boiling, lower heat to a simmer.
Add potatoes when chicken is halfway done (if you're using potatoes).
Simmer until chicken is cooked and potatoes are tender.
Serve over warm rice! My favorite is short-grain Calrose 😊
If using pork--
Place pork into a large pot and fill it with water (enough to cover the pork completely).
Boil your pork. Lower heat to a simmer once it's boiling, and begin removing all the gunk that floats to the surface (called skimming!).
Keep skimming the top until it's all clean. Let pork boil until most of the water has evaporated (if there's still a lot of water and the pork looks mostly cooked, just drain it!).
Take pork out of the pot and set aside.
In the same pot, add some oil. Make sure heat is around medium.
Add the pork to the pot and fry so edges are crispy/seared. I would recommend doing this in batches if your pot isn't large enough for a single layer of pork.
Once all your pork is seared, put them all into your pot. Add soy sauce and vinegar (enough to cover meat halfway in ONE layer).
Add garlic + pepper. Mix well!
Bring mixture to a boil. Once it's boiling, lower heat to a simmer.
Add potatoes (if you're using them).
Simmer until pork is cooked and soft, and potatoes are tender.
Serve over warm rice! My favorite is still short-grain Calrose 😊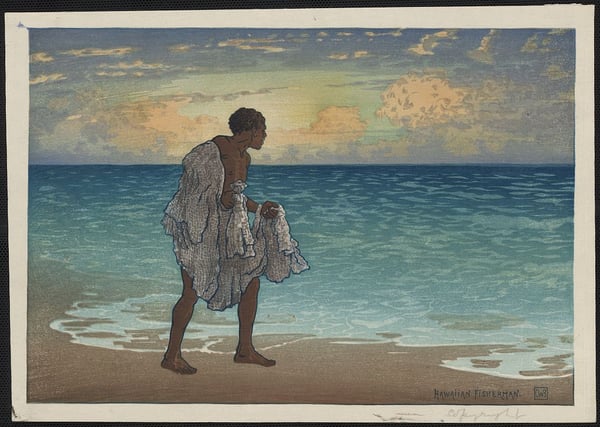 Image via Library of Congress
We hope you enjoy these recipes and give them a go! Each family makes these recipes differently, so thank you to our Climbers for sharing theirs. Food brings people together, and with these foods, we can better appreciate other cultures around us!
Happy Asian Pacific-Islander Heritage Month!