This post is dedicated to all the Moms (biological or not!) who helped us become the quirky, amazing, flawed, passionate people we are today.
Happy Mother's Day from our community to yours! For those fortunate enough to receive the gift of a great mom, you don't need to be told what an important of a role she played in your life. You already know. But we hope that you make sure to take a MOMent to thank her, because motherhood ain't easy.
For the moms, moms-to-be, and their families, we rounded up some incredible words of wisdom from our PG mamas. We hope you get something from their hard-earned, sage advice because their job doesn't come with a training manual. They had to learn the hard way, figuring out a way to do it all one day, sticky note, sticky mess, book, and sloppy-baby-kiss at a time.
Doing and Remembering All the Things
Rosemarie Fontela, Compliance Manager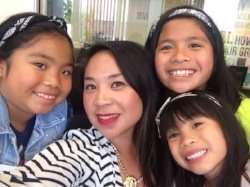 Calendars! Find what works the best for your family, whether it be calendars on Google, your iPhone, or plain 'ol old school white boards and day planners. We once missed a birthday party, because I forgot to move an event reminder to our white board. Fortunately, I never mentioned the fun trampoline party to the girls, whew!
Pictured (clockwise from left): Hailey, Rosemarie, Mariah and Aubrianna
Christy

Mackaluso, Manager of Payroll Services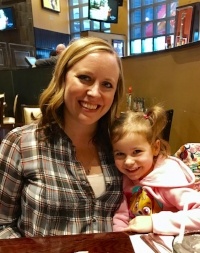 Prepare as much as you can the night before! Prep bottles, lunches, clothes, anything that can be done beforehand. This makes for a much less chaotic morning.
Pictured: Christy and Zoe Mackaluso


Melissa Speck, Benefits Coordinator
Work/Life balance is possible, but it's all about time management – prioritizing your day and the tasks at hand is key in order for you to turn off work as you leave the office.
Enjoy the MOMent
Stephanie DeStefanis, Onboarding and Training Specialist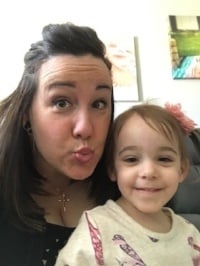 #bepresent – Laughing is more important than cleaning, singing is more important than answering emails after work, taking a second to memorize their little face is more important than allowing yourself to stress out. I try as hard as I can to be as present as possible with my daughter when I'm home with her.
Pictured: Stephanie and Madalynn (Maddie Mae)

Lori Blakey, Director of Payroll Services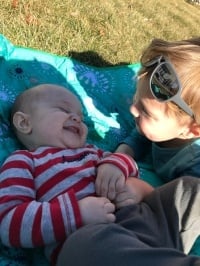 My words of advice would be – always slow down enough to enjoy the ride, because it's a quick one.
Pictured: Emmett and Grayson
Jessica Osei, Corporate Compliance Manager

The days are long but the years are short! Savor every moment. Take care of yourself- your kids and family are depending on it.
Pictured: London, Jessica and Reagan
Cheryl R. Longo, Immigration Specialist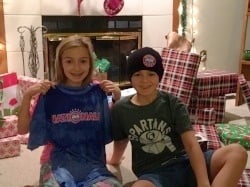 Never, ever miss an opportunity to say "I love you", "I am grateful for you", "I enjoy watching you _____ (fill in the blank)", "I am so proud of you", "You should be proud of yourself", "You are perfect just the way you are", "you are strong", "you are beautiful/handsome".
Pictured: Sydney and Joe
Momming Is Tough – Give Yourself a Break
Nicole Stevens-Delgado, Manager of Quality Assurance and Internal Auditing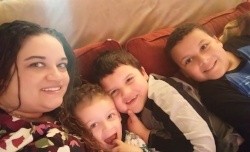 Don't take it all on yourself or feel you have to. Ask for help and a break when you need it. As much as we want to do it all, we can't. Yes, we're super moms, but remember we're not perfect.
Pictured: Nicole, Aidan, Sterling and Jace
Annie Bottos, Engagement Specialist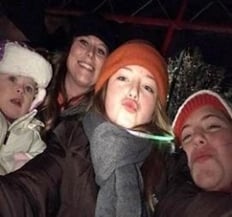 Working and going to school full time while trying to raise two girls on my own was overwhelming. My mother bought me this book (ScreamFree Parenting), and it opened my eyes to what I was missing in my life. I wasn't doing enough for myself, which lead to the frustration and anxiety I was taking out on my girls. Yes your children are your world, but don't forget that your world, also needs some time for just you!
Pictured: Abby, Annie,, Makayla, Mackenzie
Amanda Tengler, Instructional Designer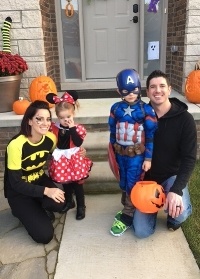 At home: don't commit to every party or extracurricular activity, we all need time to leave our sweats on and be home.
Pictured: Amanda, Allie, Mason and Ryan
Jennifer Pasquier, Senior Brand Strategist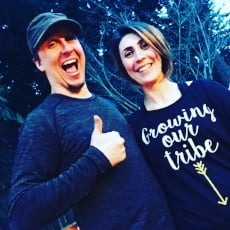 As an expectant mama, I'm learning it's important not to be too hard on yourself: growing a tiny human is HARD WORK. It's important now more than ever to listen to your body, take good care of yourself and cut yourself some slack.
Pictured: Mike, Jen and the lil bun in the oven
Alyse Nilson, Implementation Manager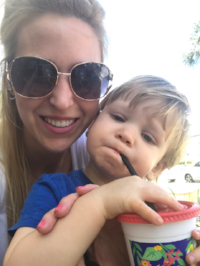 #LifeisMessy! We moms have to encourage and support each other just as we do for our kids. We have to let go of the things we can't control, ask for help when we need to and make sure we keep focus on what truly matters; health, family and the memories we create.
Pictured: Alyse and Hutson
Karen Philbrick, Director of HR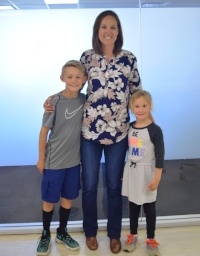 Go easy on yourself. Even when you may think you're a train wreck, your kids think you are the best mom ever.
Pictured: Will, Karen and Zoe
A Wise Mom Once Said…
Renee Peace, Accounting Manager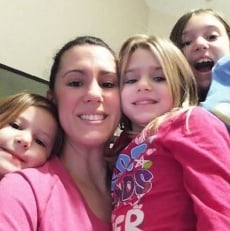 I learned that it was way more important to SHOW my kids hard work and passion than forcing it upon them. They will follow your lead.
Pictured: Rosalia, Renee, Alexia, Lilianna
Tiasha Holcomb, Payroll Services Coordinator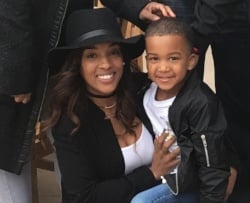 There is no such thing as one-size-fits-all for kids. Not for all boys or all girls, not even for a specific age. Learn your own child and love them every day (even when they draw on your couch with markers lol).
Pictured: Tiasha and Jaxon
Grace Phillips, Legal File Clerk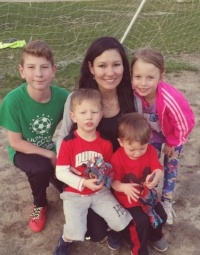 If you have more than one child, take them each on their own individual outings. Make them each feel that they're special to you in their own unique, individual ways.
Pictured (clockwise from top left): Mateo, Grace, Sloane, Jagger, and Hudson
Megan Anderson, Proposal and Content Strategist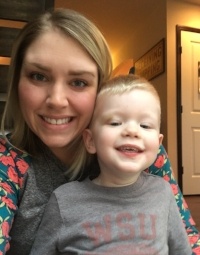 #workingmomlife is stressful. You feel like you have to make every decision at work and at home. But finding purpose for you and your family will help keep you sane.
Pictured: Megan and Lucas
Najola Celanji, Immigration Support Representative II
Another mom told me that "having no sleep is my new norm" and I found that to be true being a new first time mom.
Tiara Fletcher, Immigration Support Representative
"Don't cry over spilled milk, unless it's breast milk!"
Happy Mother's Day!
A special thanks to all the PG Moms who contributed words of maternal wisdom for this post. Looks like you've got some lucky kiddos at home. Also, the incredible advice that poured in was even bigger than this post. So keep an eye out for more parenting insights throughout the year!
Do you have any Mom Advice?
We'd love to hear in the the comments section below!