"You can do it Griff!" My six year-old was tugging an inner tube twice his size up a steep hill for yet another adrenaline rush down the slopes. He looked back, smiled, and pumped his little legs to catch up with his brother a few steps ahead.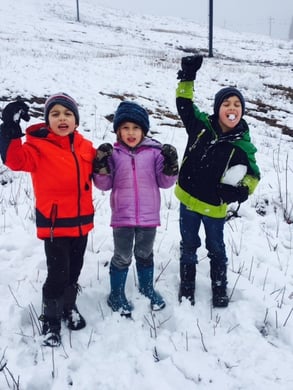 The three of us flew down the slopes and high-fived at the bottom. We had decided to end our holiday break with a family adventure before we had to get back to reality.
I asked my boys, "Are we walking the hill or taking the magic carpet this time?" They glanced to the right at the long line of people waiting for the conveyor belt to carry them up the slope. Then they glanced to the left at the slope we'd struggled to climb.
Santino, my scrappy seven year-old, shouted without hesitation, "The hill, Dad!" Off we went up the slope with a small handful of others crazy enough to drag their tubes up again versus wait in line to take the belt.
The climbs up the hill continued and we took turns helping and encouraging each other. In the blink of an eye our two hour tubing session was over.
As we were packing it in I overheard people complaining about all the time they wasted waiting for the conveyor belt. But me? I was beat and couldn't be more satisfied about getting my money's worth.
What choice will you make?
Leaders and communities with strong cultures know that they choose their impact, starting with the smallest choices.
Do we choose the climb or the easy way up? Do we speak up or remain silent? Recognize or criticize? What about directing energy towards what matters most or allowing distractions?
After our day in the snow, my boys were already asking when we could do it again. They ended the day with a big meal, asked countless "did you see the time I did this?" questions, and slept like bears. It's safe to say they were pretty satisfied with their choice too.
My hope for you is many steep hills with many exciting rushes down. Because we all know that anything worth doing is a steep and hard climb.
Happy New Year!
- Bobby
How will you choose to lead your contingent labor program? Let's climb the steep hill together.