At the start of each new year, many people reflect on what lies ahead, on new goals and dreams. Sometimes our aspirations cause us to remember the decisions of our past that have led to where we are today.
Unless you're Native American, your ancestors' choices and perseverance brought you to this country. And for immigrants, it was you or your family's choices. This is a powerful connection that binds us together. We hope as you read this story, you consider the countless contributions immigrants have made to America. Our shared values at Populus Group are centered around celebrating our diverse backgrounds, our stories, and our differences. We hope you hold that spirit with you as you move through your day.
Tom's story started with a chance, a risk, and a belief that the U.S. had something special to offer his wife and him. Their move from Poland to America forever altered their story, their goals and plans changing along the way too. What made the move worth the effort? Worth the distance? Keep reading to find out.
---
Tom Dziwok
HR Generalist
My immigrant story represents my family's experience as my wife has been the main engine behind our move to the United States. Let me just share a little bit about the place we both grew up! We were both born in a city located in southwestern Poland (Upper Silesia region) called Bytom.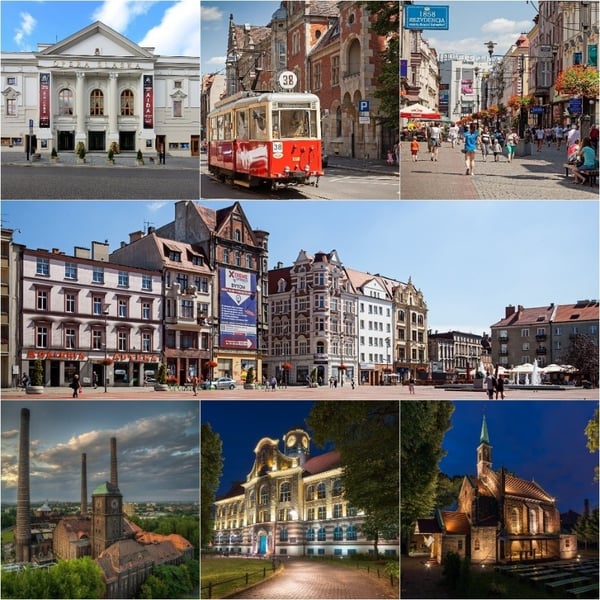 Images of Bytom (Upper Silesia Region), Poland--where Tom and his wife grew up (via Wikipedia).
Because of its long (and sometimes complicated) history, the population of the region has been heavily influenced by both Polish and German culture. This is highly visible through our values, food and even the language spoken by many Upper Silesians. Our values are universal: family, hard work, and good food. Some of you that know a bit about Polish food immediately think about pierogis (and maybe paczki). You are correct as it's a very popular dish in Poland. But I'll add a few more to your list since it's the most characteristic to the region where my wife and I grew up. The most traditional dish you'd see on a Sunday's table in this part of Poland would consist rolada (beef roulade filled with pickles, sausage, bacon and onion), modro kapusta (cooked red cabbage) and slaskie kluski AKA kluski z dziurka (round dumplings served with gravy). Last week, we finally tried to create our own version of this dish using chicken instead of beef and sautéed mushrooms for the filling (ask me for the recipe!). It was delicious.
Regardless of where we came from, we all share the same emotions when it comes to home-cooked food. That warm feeling when you think about the smell of your mom's cooking or the sugar rush you get from the sweets that were so desired by you and your friends are things we have in common. This nostalgia will never leave you. Now it's up to us to cherish those moments and share them with future generations so our memories and family heritage won't be forgotten.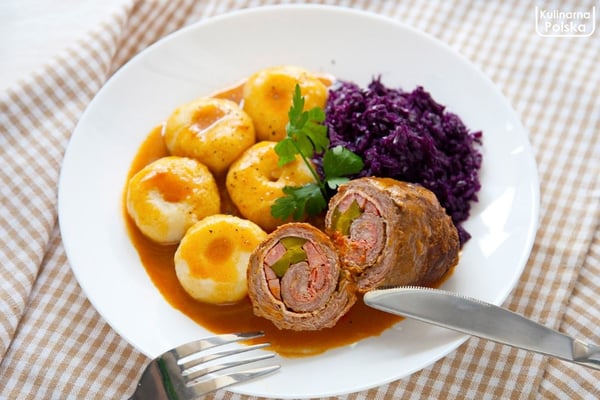 A traditional Sunday Silesian meal--rolada, modro kapusta, & slaskie kluski (via Kulinarna Poska).
How We Became Immigrants
For us, it all started in 2002 when my wife came up with the idea to participate in a green card lottery. She filled out the paperwork and was surprisingly selected! As her spouse, I was also selected. After a successful interview at the U.S. embassy, we were presented with the option to come to the U.S. within the next 6 months (otherwise we'd lose our green card privileges). We arrived at the Chicago O'Hare airport on May 25th, 2003—the day before Memorial Day.
The idea behind our move was simple. We'll stay 6 months, earn some money, improve our English, and then go back to our families and a new apartment we were so excited about. But returning took us a little longer than expected. We came back to Poland 2 years later with a small addition in the form of our first son. After having lived in the U.S. and seeing the opportunities our son could have here, we made a difficult decision. My little family moved back to the U.S.—this time permanently.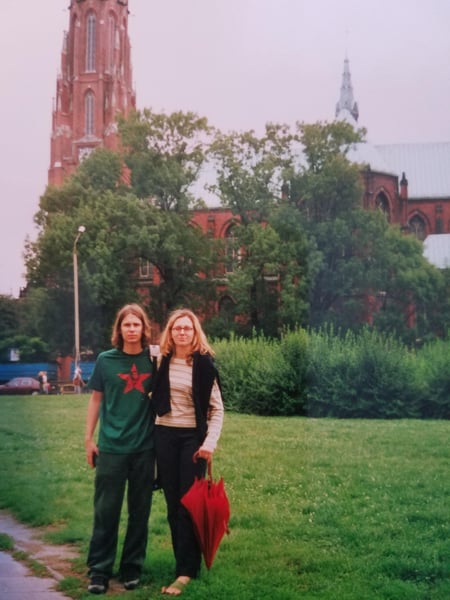 Tom and his wife on their way to get Tom a haircut, taken the day before their wedding. Behind them is one of the oldest churches in Bytom, around 800-years-old. Many structures in Bytom were destroyed during WWII, though this church still stands.
Our Greatest Struggle
This brings me to the point that many of us struggle with; something that connects those who are finding new home here: missing our loved ones. While we've gained a new life and new opportunities, we've lost a part of us that was created by all those years spent in the old country. We missed (and still miss) our friends, the food, the jokes only those back home would understand. But what we missed the most were those moments of joy like welcoming new life or the times of saying goodbye to those closest to you. This longing sometimes makes you judge the decision you've made.
We've been lucky with our arrival to America. We're fortunate to now be American citizens with the freedom to vote and travel, but many of our fellow immigrants don't have the same opportunities. For many, their trip to U.S. has only been one way. It's hard to comprehend the struggles that some people must endure to have to opportunity to come to America. What we know, though, is that there's a common goal that connects us all—our drive to create better opportunities for our kids. And that's what helped my wife and I survive those days we doubted some of our decisions.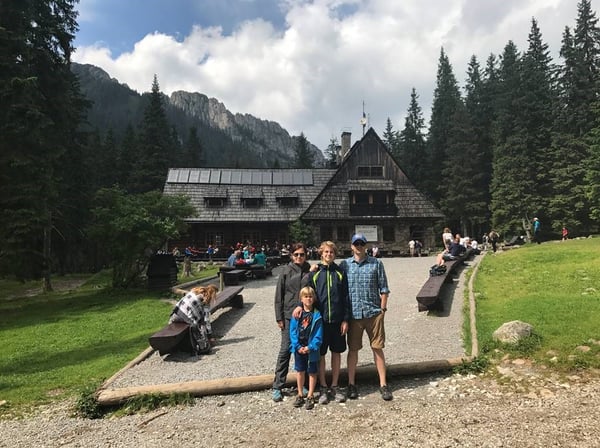 Tom and his family during a trip to Poland at the Tarta Mountains outside one of the mountain lodges that shelters hikers.
Being a naturalized American sometimes feels like being adopted into a big family where some members fully embrace you, while others aren't as accepting. We're constantly trying to prove we're worthy, doing everything we can to make our new home better. We can only hope that the values we brought and share with our kids (and those close to us) can create greater understanding in our communities. And we also hope that our long journey from the small basement room in Chicago to one of the most beautiful places in the world can prove to our kids that hard work pays off.
Where We Are
Sometimes when we get sentimental, we talk about how unreal some of our experience have been! We would never think that us kids from an old mining town in Poland would be living outside our country, earning Masters degrees in a foreign language, walking the streets of our high school grunge heroes, and being surrounded by the immense beauty of the Pacific Northwest. It's hard not to get excited when you see the majestic Mt. Rainier on one side, snowy Mt. Baker on the other, the whole Cascade Mountain Range on your left, and Pacific Ocean on your right! It's hard not to smile when tasting delicious foods representing every part of the world.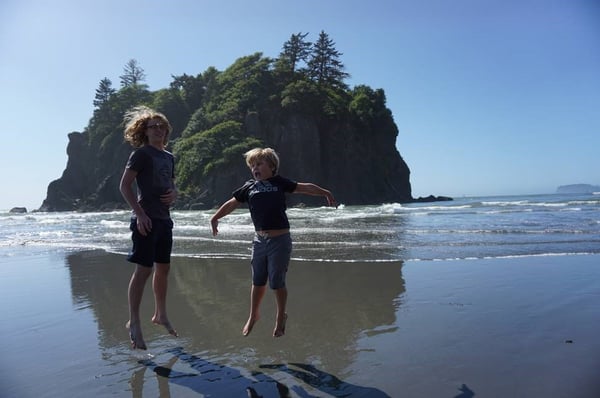 Tom's kids at Olympic National Park in Washington. It's hard not to fall in love with the beauty of the PNW.
We're optimistic as we see our kids' successes in school, sports, and their appreciation of hard work and their heritage. We're happy to see both of our sons excited when we talk about their past visits to Poland—places we've seen, food we've eaten and will eat when we're there the next time, etc. It's great to see they aren't ashamed of their roots as they get excited when hearing successful stories of other Polish people—whether it's talking about Robert Lewandowski's success in the soccer (football 😊) world or sharing some fun facts with their teacher about Marie Curie who did so much for science and women's emancipation. Should I mention Wayne Gretzky and his roots? You can still buy pierogis in his Toronto restaurant--pierogis that became a symbol of Polish presence in the United States.
A couple of weeks weeks ago, when we visited our local Costco, my younger son ran to me, face red, yelling: "they finally have Pierogis here!" Soon he pulled himself together and added with the full seriousness of a 10-year-old, "Life in Washington got even better."
I hope our kids stay proud of their heritage and that all immigrants can proudly celebrate their roots.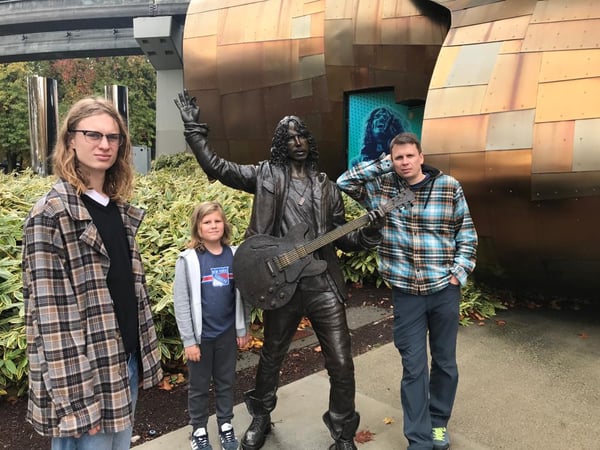 Tom and his sons posing with a Chris Cornell statue at Seattle's Museum of Pop Culture & Experience Music Project (EMP).