When I first joined the Immigration Employment team at Populus Group, it was a whole new world to me (aka, I had no idea what I was doing). I had a great manager and team around me, but all the nuances and important details were overwhelming at times. Even for experts, it's complex.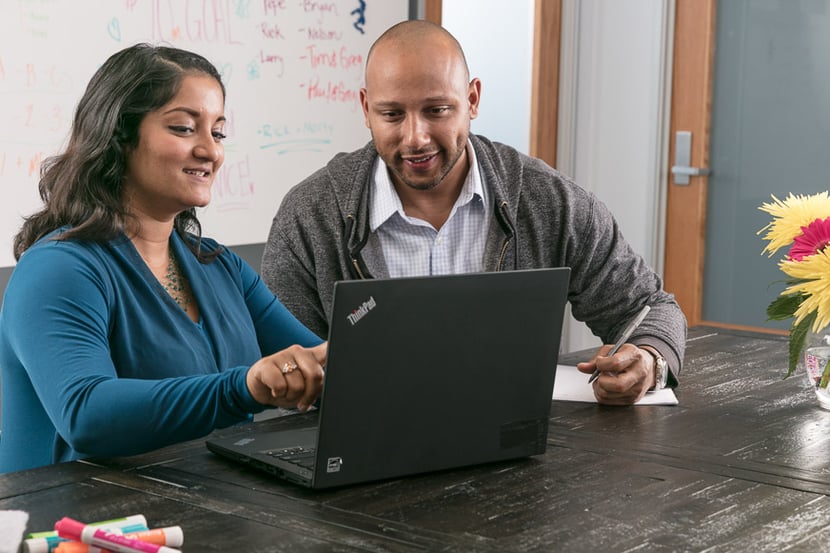 I remember one morning, coming to work, coffee in-hand, and as I was starting up my computer, I was feeling more comfortable with my ability to do my job. On that particular day, the first thing I was working on was a case for a candidate who really needed an H-1B Visa, but to secure that, he also needed an employer to sponsor him. Trouble was, he didn't have one. But he did have a family. He had a group of people who depended on him, his income, and hence his sponsorship, so he could stay in the country he had worked so be a part of. He needed a job; without one, else everything else would fall apart. As someone still new to this realm of the business world, I remember reviewing his case and being struck by what a difficult, vulnerable, stressful situation that would be for anyone. It was the first time I truly understood the impact of my work, not just the tasks associated with doing a good job. So I got with my team and we began working diligently to get him what he needed.
Not only were we able to find a position for him, we were able to secure his sponsorship so that he had the opportunity to do the job he had worked so hard to have access to. It's cases like this that have become routine for us, but when I take a step back and reflect, they also remind me of how lucky I am. Not only because of the opportunities available to me as an American citizen, but perhaps more importantly, because I'm able to help people from all over the world have a chance at living out their dreams.
That's what our Immigration Employment Solutions team does. It all starts with one very important time of year: Origination Season. This is already a complicated set of deadlines and rules, but because of the new Administration, there are some additional new things to be aware of this year. This quick guide breaks it down into 4 categories.
Simple Guide to Origination Season
1) What is Origination Season?
Origination or Cap season is the yearly opportunity for foreign nationals to apply for a new H-1B visa.
When can candidates apply?
The USCIS (United States Citizenship and Immigration Services) accepts applications for the first 5 business days in April. This year the lottery will be open from Monday April 2nd – Friday April 6th.
What is the lottery?
This is the system the USCIS uses to select the 85,000 H1B candidates from the more than 200,000 applicants they receive each year.
H1B Regular Quota : 65,000 visas
H1B Master's Quota : 20,000 visas. ( only US Masters are eligible)
Key Dates
March 16th - Last Day to guarantee case will be in the lottery
March 27th - Last Day for a case to be initiated but not guaranteed to be in the lottery
2) How does an OPT impact the application process?
Optional Practical Training (OPT) is temporary employment directly related to an F-1 student's major area of study (more info about OPT here).
First consider how long the project is set to last. If a candidate has enough OPT time left, they may have the option to wait to apply for a visa. A Populus Group Immigration Specialist can advise you on if this year is appropriate to apply for the H1.
Click here to ask a specialist now >>
If a candidate chooses to apply for an H1, they will move from the OPT pricing calculator to an H1 calculator effective April 2nd.
3) Prevailing Wage: why is it important?
What is prevailing wage?
Prevailing wage is the average wage paid to similarly employed workers in the area/physical address of intended employment. Prevailing wages are determined by the Department of Labor.
Why is this important?
This is important to know because:
Prevailing wages aren't applicable to OPT workers
If a candidate is applying for an H1, their direct labor rate may need to be adjusted to meet prevailing wage.
A Populus Group Immigration Specialist will be able to advise you of the wage level needed to file.
4) Job Descriptions
USCIS is pushing back on many things this year, and one is the details in the job descriptions. It is our legal team's responsibility to file the best petition possible to USCIS so we can help ensure the H-1B visa application process goes smoothly.
What we need:
One of our Immigration Specialists can provide a list of the 10 exact questions that can make a sponsorship case strong. These questions are specific to the position and employer, and the more details, the better. This helps prevent issues with denials or a request for evidence (RFE).
Still have questions about H1 Originations?
We have an Immigration Specialist in your region and they will be happy to go over in more detail!