The Food and Agriculture Organization (FAO) of the United Nations celebrates World Food Day on October 16th, and has celebrated annually since 1979. On this day, NGOs, businesses, the media, and general public promote worldwide awareness and action for those who suffer from hunger, as well as the need to ensure healthy diets for all. Food also goes beyond hunger, it's also what brings together communities and a way for us to learn about each others' cultures. Many gather around simple meals to build deep, human connections--so let's work towards a world where we all have access to nutritious foods that bring us together!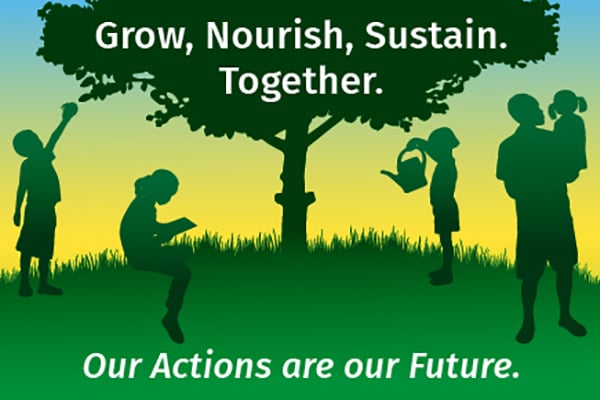 Via Food and Agriculture Organization of the United Nations
Did you know over 2 billion people don't have regular access to safe, nutritious, and sufficient food? COVID-19 has impacted even more people--nearly 690 million people are hungry, up 10 million from 2019. This year's World Food Day theme is Grow, Nourish, Sustain. Together. Preserving and growing access to safe and nutritious food is an essential part to the COVID-19 pandemic response, especially for the most vulnerable communities. We need to support our farmers and workers through the food system. We need to improve our food systems that are out of balance--hunger, obesity, environmental degradation, loss of agro-biological diversity, food loss + waste, and a lack of security for food chain workers are only some of the issues we face.
What are some ways you as an individual can take action?
Choose healthy and diverse foods for yourself

Influence positive will--use social media to promote healthy buying + eating habits!

Choose LOCAL and choose SEASONAL--encourage food diversity in your local community and reduce your carbon footprint by choosing locally grown, not imported foods

Grow food at home!

Respect food by learning to store uneaten foods instead of throwing it away

Support development initiatives in your community like nutrition programs in schools

Check out

FAO.org

for more resources!
---
At Populus Group, we want to encourage you to take action and we're sharing some recipes using an ingredient that's generally readily available to most everyone: potatoes. Around the world, potatoes are used in so many different ways from our easy French fries to potato pancakes to hearty stews. There are many different and inexpensive ways to eat potatoes, so check out delicious recipes from some awesome Climbers below (with downloadable recipe cards!):
Smashed Potato Pizza Brunch
by Rich Williams

This recipe is super delicious, and is basically a pizza with a gluten-free crust! The original author is Valentina K. Wein and the creativity behind this recipe is through the roof! I mean c'mon, pizza for BREAKFAST? Download the recipe cards to the smashed potato crust and potato egg pizza for a delicious brunch!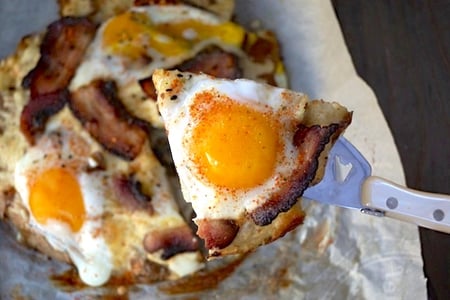 Via Cooking on the Weekends by Valentina Wein
Potato Fennel Gratin
by Whitney Barton
Who hasn't heard of Barefoot Contessa? This recipe is inspired by her Potato-Fennel Gratin. Gratin is a super versatile dish that you can modify to your taste, but it's overall cheesy, creamy, delicious heaven! Download the recipe here.
Ube (Taro) Rice Krispie Treats
by Rosemarie Fontela
This is a special recipe made by Rosemarie's kids! We all love Rice Krispie Treats, so here's one with a delicious Filipino twist. You may be wondering--how this is related to potatoes? Well, Ube (also known as taro) is a root vegetable related to your classic orange sweet potato. Ube has darker skin and deep purple flesh, and is filled with fiber, vitamins, minerals, and it's rich in antioxidants! Click here to download a sweet treat!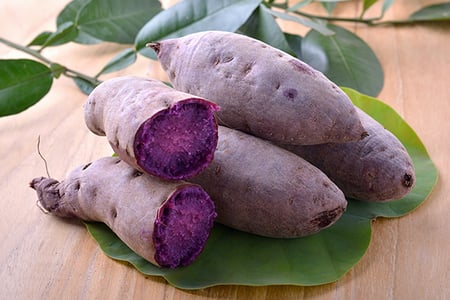 Via One Green Planet
The Best Potato Salad
by Tara O'Connor
There's something about grandma's recipe that makes you feel all warm and fuzzy, right? Tara's great-grandma has passed down this recipe through generations and it'll continue to be passed down! There aren't any measurements--everything is to your own taste. And it's such an easy recipe to modify to you and your family's likes! Who doesn't love that? Download Grandma's Potato Salad and enjoy!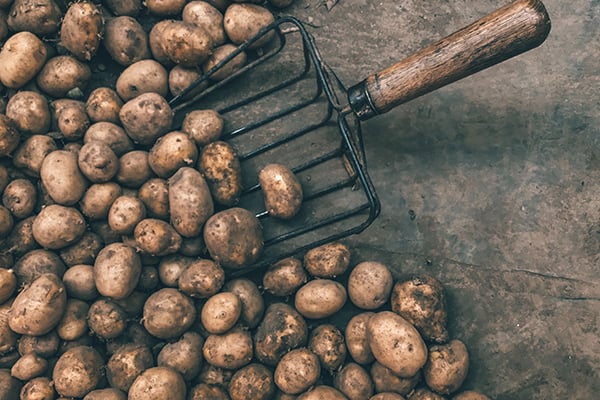 From Tara:
My recipe was handed down to me by my mother. She learned it from her mother who learned it from her mother. Because it is a family recipe there are not any measurement for the ingredients, rather you are expected to cook by how it looks and how it tastes while cooking.
Some cultural things to consider:
The women in my family learned to cook from watching their mother or grandmother so many of the family recipes do not have any measurements, and most ingredients were measured by hand.

While learning you were given age-appropriate chores to contribute to the dish, I started out in poking the potatoes to determine when they were done cooking. A few years later I graduated to cutting the potatoes.

Even if it were your own family member, many southern women would give you "most" of the recipe, leaving out the special ingredient that made it perfect.

Most of my family has people who are "permitted" to make certain dishes. Potato salad is a test dish, you know you have arrived as an adult if you can make the macaroni and cheese.

Most of the people in my family will only eat dishes if they were made by a specific person. Certain relatives will not ever eat food prepared by specific family members.
Quick & Easy Tater Tot Casserole
by Megan Anderson
Casserole? Quick & easy? Yes, it can be! Megan (with the help of her amazing husband, Dan) makes this casserole for her family AND her coworkers. Our Bellevue office absolutely loves her delicious casserole and we're so thankful for Megan (and Dan)! Want to share with your loved ones? Download Megan's quick & easy tater tot casserole recipe!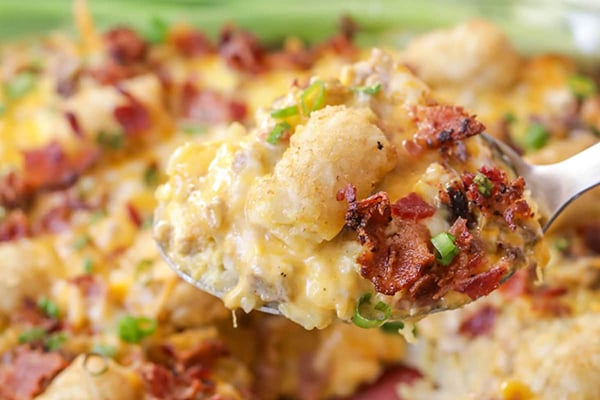 Via Lil' Luna by Kristyn
Thank you to our Climbers who contributed their recipes! Food truly brings us all together, so let's come together and work towards zero world hunger, ensuring access to healthy foods (like potatoes!) for all. Happy World Food Day!
Check out our Populus Group Instagram to watch them make it LIVE all week before World Food Day on October 16 (or check out our #HighlightReel on our profile to watch after)!
Other Honorable Mentions:
Which was your favorite recipe? Comment below!