In celebration of PG's 20th birthday, we've slowed down to take some time to reflect and share our stories, photos, and gratitude for this amazing community that we've built TOGETHER. We chose 20 climbers to share in our blog post and answer the following 3 questions. Here's what they had to say!
1. How has PG stacked up against what you thought it would be?
"I was apprehensive as a new climber. I didn't know what to expect as far as company culture, or what it really meant to be a leader here. My first few weeks seemed too good to be true honestly. All the warm welcomes, solicited feedback, and candid speech was a bit overwhelming. However, I'll admit that it felt good to be part of a climate that worked together with intention and integrity rooted in our day-to-day. It's been amazing to work for an organization that allows me to be Taniesha every day without judgment, and values what I bring to the table." - Taniesha Thomas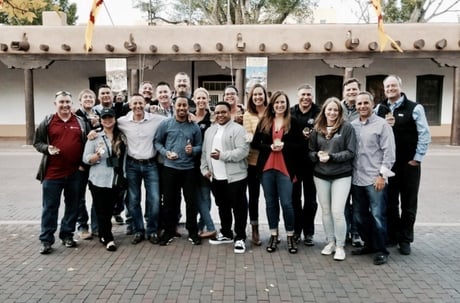 "Walking in on day 1 with 5 people total and no idea what our future held, PG is 180 degrees from what the original vision was and I still marvel each and every day at what PG has become from our very humble beginnings. It has truly been a huge part of my life for the last 20 years!" - Tom Mehl
"My relationship with PG started 20 years ago when PG and AGS were both being formed. It has been great to work with PG, first as a strategic partner, and for the past 5 years, as an internal climber. I appreciate the underdog mentality, the relentless perseverance, and the desire to make tomorrow better than today." - Jim Mann
"100% and then some. I chose to come to PG to have the chance to be a part of building a community where people feel seen, valued, and ultimately just really loved where they worked and what they do. I, just like all humans wanted to feel as though my voice and opinions were valued in building something great. PG has absolutely provided that to me along with a lot of learning along the way about what a massive and important responsibility it is. That it doesn't happen overnight and it is going to take a lot of perseverance, mistakes, and work to make that dream a reality. As Bobby likes to remind me... 'Long game'." - Karen Philbrick
"PG continues to exceed my expectations each and every day. I wasn't sure what to expect before starting here, but that first week really set the tone – through the books we read, the people we met, and the stories shared – I knew I was in for something that was bound to be life-altering. It has been just that, and more." - Anna Tucker
"I started at PG when it opened many years ago. I left to stay home with my first son for 10 years. When I returned over 3 years ago, the difference was quite a shock, to say the least. The growth of PG was truly overwhelming as I walked into the office and it was at capacity. When I started the first time around, I believe our headcount was around 20ish people. What I like the most that has been incorporated is the culture piece. It makes it feel truly like family and not just work." - Brookie Clark
"I have had several jobs in all types of companies from Wall Street to the Olympics and a major research university. Each new job comes with promises about culture and how the company works. PG is the only company that has lived up to the early cultural promises that were made. I was excited to join a company who wanted us to be authentically ourselves at work and I am happy that PG continues to live up to its culture and values." - Tara O'Connor
2. How has PG shaped you as a person?
"Without PG I don't think I would have recognized the level of perseverance that I possess. PG has taught me to embrace every challenge that comes my way even if it doesn't feel great at the moment. Every time I face a new challenge, I know I will come out stronger than I did before. The other way PG has shaped me is in how I communicate. Because of the values and trust behaviors, PG has taught me, I don't shy away from difficult conversations. It's not my favorite thing to do, but I see the value in delivering feedback early and often. You can't expect someone to get better if they don't know there's an opportunity. Stating my intent, which is always from a place of love always helps." - Kristine Baker
Another climber said: "Populus Group has helped me uncover my gifts and passions. It's also helped me become a better human, wife, mom, and friend. It's helped me own what I can control and navigate with grace things I cannot. It's helped me understand my resilience and worth."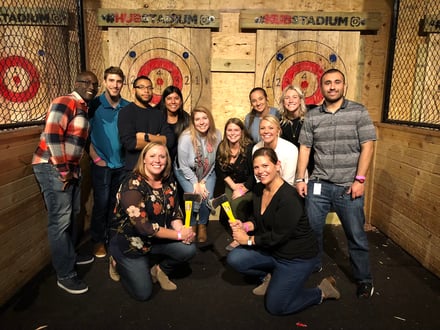 "One of the things I love about PG is how they help you develop as a person, not just specific to your role. The skills I've learned around accountability, giving/receiving feedback, setting expectations, trust, etc. are so useful in my personal life as well as at PG." - Christy Mackaluso
"It was where I grew up both personally and professionally. So many life experiences. It was been so crazy growing up with everyone – watching people go through so many big life events. Marriages- babies – so many babies ( I Love babies) – love and losses. There are friends you make for life here. When I came in I wanted to be able to choose my climb and I feel like PG was able to give me the freedom to find the right fit for me. I took the scenic route for sure to find the right place to share my gifts but I think I really have found my spot." - Hilary Schwartz
"PG has not only given me the space to grow as my authentic self, but also tools, resources, and support along the way. In this community, we truly celebrate what makes us unique and support each other to elevate every voice and every perspective. It's the only way that we can all get better together. This has not only allowed me the opportunity to find my own voice but to listen and learn from others that are doing the same. Through my time here at PG I have developed a better understanding of myself and what I need in order to make a positive impact on those around me." - Lori Blakey
"PG has helped me grow so much. When I started I was shy and timid, afraid to really share my mind or shake things up. PG helped develop me both personally and professionally. I learned the importance and value of sharing my voice, even if it's uncomfortable. I became a leader who cared deeply about my team and did everything I could to help guide and protect them. And I found a love for marketing and project management. All of these things helped me in my relationships and endeavors outside of work with my team 1 too. As Bobby likes to joke, keeping track of all the Climbers over the years prepared me for my favorite job, being a mom." - Jackie McCool
3. What's your favorite PG memory?
"My favorite PG memory is while we were at Climber Summit, in Scottsdale back in 2019, and we found a local bar with karaoke and climbers just kept showing up! Eventually, we took over the entire bar. There were so many laughs and good songs. I still don't think that bar knew what hit them that night, but it reminded me of a scene from a movie." - Amanda Tengler
"Gosh, I have so many happy memories where my co-workers and I would laugh for hours. One of my most memorable moments is when I had to dress up as a gorilla for a day. I told one of my co-workers that if they bought this gorilla suit, I would wear it – not thinking that she would. Well, she did and I attended internal meetings all day in the full get-up. It was the weirdest and sweatiest day at PG." - Renee Peace
"Lots of PG memories, especially of celebrating success. Here is a fun one tho…the live band dancing & jam session while at the Climber Summit in New Orleans. I rocked out to Michael Jackson's Billie Jean along with several climbers out on the dance floor getting it in! Leg kick, spin, and everything. Wow…I officially retired MJ dancing that night. I left it all on the floor lol." - Mario Lambert
"This is always such a hard question to answer because there are so many. Most of the memories that come top of mind for me are ones that involve the people that I've developed true friendships with, or that involved my own PG accomplishments. A couple that stand out are the two BHAG (Big Hairy Audacious Goal) achievements and trips – accomplishing a collective goal that big as a community in 2010 and again in 2018, and then getting to celebrate together. Another was working with my team to complete a rebrand for PG in 2017 and then getting to watch everyone's eyes and hearts light up when we launched it and shared it with the world." - Jen Pasquier
"Ten years ago I was working from our Seattle office for the week when I received a call from my dad that my Grandpa wasn't doing well down in Tennessee and that if I wanted to say my goodbyes to get there as soon as I could. The executive team was at their QBR at the time, but once they heard what was happening, multiple of them, including Bobby, stepped out to call me and tell me whatever support I needed to get there that PG would make happen. PG flew me from Seattle to Tennessee, and because of them I was able to spend my Grandpa's final 15 hours of his life with him and hold his hand when he passed. Fast forward to the next month when I was back in Seattle and Bobby called me into his office where he proceeded to ask me my favorite memory of my Grandpa. I shared with him how when my Grandparents both got sick we would sneak into the kitchen and eat Butter Pecan ice cream straight from the container in the middle of the afternoon. The next day he came up to my desk and asked me to grab my things – he wanted to take me somewhere. He drove me straight to the local ice cream shop, ordered 2 bowls of butter pecan ice cream and we spent the next hour talking about my Grandpa's crazy air force stories. It became a full circle moment when I was awarded Sherpa and Bobby had "Butter Pecan" inscribed on the back." - Stephanie Miller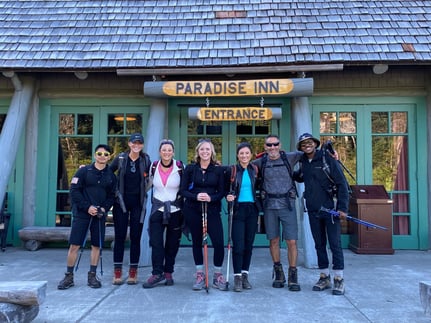 "I have always had 2 answers to this question; The first one, it hasn't happened yet. I truly believe the best part of our story hasn't happened yet. The second, all the Team One (my word for family) moments in my PG Community I've had the honor of witnessing. Climbers becoming parents, marriages, and the peak moments in their life they have shared with me. Those have always mattered so much more to me than what we do. Although what we do is important, it pales in comparison to Why we Exist & Who we Become." - Bobby Herrera