One of the biggest challenges that leaders face in today's world is creating team cohesiveness; and I don't mean building teams that always get along and are nice to each other.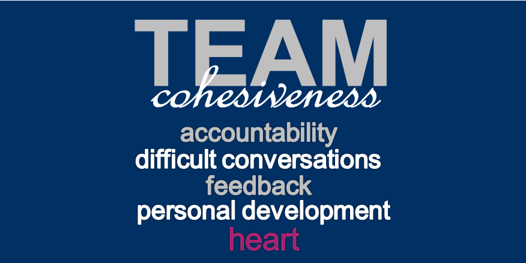 To me, team cohesiveness means that every member on the team has a voice; a voice to challenge others on the team, to provide encouragement and praise, and to give un-filtered feedback. When everyone on the team has a voice, it creates accountability - to themselves and to their partners.
So why is creating a cohesive team so hard? Well, one phrase I heard a lot growing up was "if you can't say anything nice, then don't say anything at all"; the Thumper rule. Many of us are taught as we grow up that being polite is more important than being real. So then, how are we supposed to hold each other accountable and receive the feedback we so dearly need? We have to go back to being a kid, perhaps on a 4th grade basketball team.
My friends and family know that I love to coach kids' sports. I have three boys all under the age of 10 who are involved in football, basketball, baseball, and other sports. Coaching kids' teams is a passion of mine; it always has been and always will be. The key takeaway of my story is what drives that passion. There is nothing I enjoy more than watching a group of kids, who have little or nothing in common, transform from a group of individuals into a TEAM. I'm confident that I learn more from these 5-10 year old kids than they learn from me. So now, I'd like to share a story about the 4th grade basketball team I coached this past winter that became one of my favorite teams I've ever coached.
Let's set the stage for the story. These are not travel teams where you get to put your own team together. The two kids assigned to my team are the two coach's kids. The remaining players are assigned to each team randomly with the goal of trying to keep kids on teams within their own school. So while they may know each other, playing together on a team is completely new to them. Our goal as coaches is teach the fundamentals of basketball while molding all these individual pieces into one solid TEAM. One of the challenges we face is the limited amount of practice time due to so many teams and so few basketball facilities. With so many teams fighting for court time, we are allowed only 3 practices before the first game and one practice a week once the season starts. These practices are limited to an hour and 15 minutes each. Combined with a 10 game schedule, we had a total of roughly 16 hours of practice time and 10 hours of game time. The journey we took in that limited amount of time was nothing short of remarkable.
If you've never coached at this level, I will tell you that the dynamics are no different than what we have in our work environments. There are a lot of difficult conversations between the players that go something like this:
"Hey, you don't pass the ball."
"You are a ball hog."
"Your defense stinks."
"You throw the ball away too much."
There is also a lot of accountability between these kids:
"You were here on this play, when you should have been there."
"The guy you are guarding is killing us on the boards; you need to box him out."
"You were jogging down court when you should have been sprinting."
"You are late to practice again."
Along the way, they also begin to provide feedback to one another:
"Hey, great shot."
"Wow! That was some great defense."
"Amazing pass!"
They also pushed each other to get better. They made sure everyone did their homework and worked on individual skill development. This didn't just happen during practice but rather at home in the garage, on the driveway, and at school. They worked hard every week in between games and practices to get better. They also came to practices and games with more Ideas. Here is an example: One player came to me with the idea of changing the names of our plays at halftime to confuse the opposing team. We only had 5 offensive and 4 inbounds plays so by halftime, the other team has figured out the names of our successful plays. By implementing this idea, the team was able to get some easy baskets simply by confusing the opposing team.
Let me paint you the picture of how the first 3 practices went:
A lot of individual play, not team play; if they got the ball, forget it
A lot of pointing fingers if there was a turnover
Not a lot of help on defense
And let's throw in some fighting and crying going on as well
Our team was made up of kids of different shapes, sizes, and skill levels and although they all became great teammates to one another, two kids really made an impression on me. First, there was Matthew; he's super talented, super competitive, and the best player on the team. He can do anything with the ball. He can use his left hand as well as his right hand, even at this age. Basically, he could score anytime he wanted. Next, there is Sammy. He's the kid that wasn't blessed with the physical gifts that some of the kids on the team have. Yet, he had more heart than anyone, tried harder than anyone, and never took a second off. Unlike Matthew, it was really difficult for him to score; in fact he was the last kid on the team to score which he did in Game 6 of the season.
Watching these kids transform into a team was incredible. For me, there was one moment that really stood out. During our last practice before the last game, I had my wife bring ice cream for the team. We sat around in a circle and shared our favorite memory of the season. Some of the kids shared the memory of beating the last undefeated team, or scoring 2 baskets in one game, but Matthew surprised me with his answer. Remember, Matthew is the kid with mad skills. He didn't say his favorite memory of the season was when he had a triple double with 16 points, 17 rebounds, and 11 assists. No, his favorite memory went like this: "Coach, my favorite memory of the season was when Sammy scored his first basket of the season and the crowd erupted". Wow. That floored me and I had to gather myself before I could move on to the next player. The coaches praised the team and let them know how proud we were of their growth. It took a lot of hard work on their part to grow into a team and although it did not happen overnight, they became a strong, cohesive team in less 30 cumulative hours together. If these 4th grade boys did it in less than 30 hours, imagine how successful we can make our teams in 40+ hours each week.