So many great leaders in the business community want to give back. They want to mentor young professionals and pay it forward (often as someone once did for them) but they just don't know how. We've been there too and we're happy to share some of the wisdom we've learned through creating and evolving our own internship program.
Through trial-and-error we've learned some important lessons about managing an internship program (and young professionals in general). If you're considering starting an internship program, if you have one that needs refreshing, or if you just need a break from reading your emails, take a look at the top suggestions from our mentors!
1. Identify the people who will make great mentors.
"The founder of our internship program took the time to come out to our office and really explain the program; her passion was contagious. It got us excited to have an intern. We're lucky to have so many great leaders and teachers as an organization but mentoring an intern is a time commitment. So make sure your mentors have the buy-in and bandwidth to give the intern the great experience they deserve."
Megan Anderson, Proposal and Content Strategist (Seattle, WA)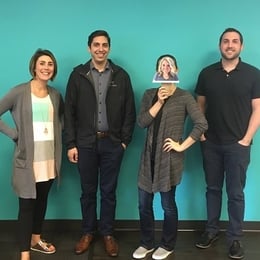 (From left) Jen from Marketing, Intern Javier, "Megan" from Payroll (now marketing too!) and Greg of Recruiting prove that interning in multiple departments creates great business acumen, and also some solid work pals.
2. Create a plan
"Before you hire your interns, it's important to have a general framework for them and the work they'll do. And it's also important to also have conversations with them about their interests and goals, and then tailor the plan to their strengths and ambitions. This helps everyone benefit from the program."
Greg Self, Technical Recruiter (Seattle, WA)
3. Set expectations.
"Set really clear expectations from the beginning. Whether it be what they're responsible for on the team, what communication rhythms look like, how we like to get and give feedback, or that we expect them to ask questions, ensure they have a very clear understanding of what's expected of them."
Stephanie Miller, Manager of Payroll Services (Troy, MI)
4. Give them "real work" and explain their impact.
"We believe interns should be doing real work. It gives everyone the best return on the time spent. Know that your interns aren't going to be familiar with the ecosystem of your business. Zoom out and make sure they hear the 'why' behind their work: what's the impact, how does their work contribute to the company? That will help give them purpose and a sense of how they fit into the big picture."
Jen Pasquier, Senior Brand Strategist (Seattle, WA)
5. Give feedback, get feedback and adjust when needed.
"The most challenging part of mentoring can be training and figuring out the strengths of the intern. Give them feedback so they have the opportunity to work on their weaknesses. And not everyone has the same learning style so make adjustments to your leadership and teaching style to make sure they learn and retain as much as possible. Finally, give them the opportunity to ask questions and provide feedback. Having an intern is another vehicle to receive idea, so give them a platform to share their thoughts. Their fresh perspective can confirm what's working and also identify where you can improve as a team."
Cedric Williams, Immigration Relations Specialist (Troy, MI)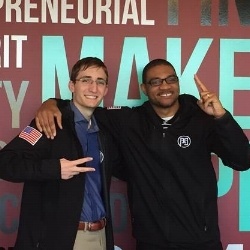 When Jacob (left) and Cedric are not working diligently on the Immigration Team,
These two can often be found devouring their shared food obsession, chicken tenders.
6. Embrace their personality, create alignment and include them in your #officelife.
"It's important not to treat all interns the same. Have the awareness to know where they can have the greatest impact and adjust their projects accordingly. Also, make time to include them in your office culture and conversations. Our team has had a lot of fun getting to know Kyrstyn, our intern. I'll share career lessons with her, and she'll teach me a new pop culture term or trend, or turn me onto a new app. When you make the effort to include your interns and let them be themselves, it makes everyone's day better."
Alyse Nilson, Implementation Manager (Troy, MI)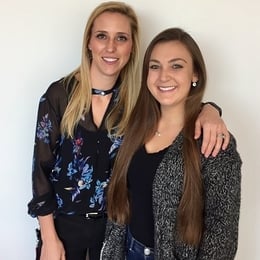 Alyse (left) and Kyrstyn have bonded over more than Implementation solutions,
like trading nutrition tips (Kyrstyn is vegan!) and witty come-backs.
7. Culture matters: make sure it's a good match for both parties.
"We've seen when you take the time to make sure your intern is the right fit culturally, everyone has a great experience. The most rewarding part of working with interns is watching them grow their skills and ideally get hired from the program. We've had success as an organization with adding interns to our PG family at the end of their internship. It begins and ends with a focus on culture."
Stephanie Miller, Manager of Payroll Services (Troy, MI)
8. Minimize the administrative burden.
A sustainable internship program shouldn't burden your existing systems and employees. You don't have to do it all! Remove some of that work by outsourcing things like on-boarding/off-boarding and payroll. Before we even thought to begin our own internship program, we payrolled interns for our clients every single year. Here are some of the top benefits our clients love most:
Shortens the time to on-board/off-board interns (eliminates administrative paper work)
Decreases total cost of hiring (State and Federal Unemployment Taxes, FICA, Worker's Comp., ACA)
Minimizes risk if intern is under 18 (some states require work permits, the approval process can be tricky and long)
Our consultative approach helps guide your interns through employment paperwork they fill-out (sometimes the internship is the first job they've ever had and they need some extra help!)
In Conclusion…
To write this post I spoke to just about every single one of our interns' mentors. Let me tell you something: it was clear that we get as much from our internship program as our interns get from us. That's pretty cool.
These young professionals are making an impact on their own career paths, and they're also making an impact on our business. Their fresh perspectives, willingness to ask questions and share ideas, and dedication to their own goals and our mission makes us better as an organization. We're passionate about giving back and doing our part to help ensure everyone has the opportunity to succeed. We want to help people write their own story and further their transformation. We're here for internship program guidance and of course, for logistical and payroll support.
If any of this resonates with you, give us a call, drop us an email, hit us in the *DMs or simply let us know bly clicking the button below. We'd love to hear from you!
Do you need to payroll an intern? How's your payroll service provider doing?
Take a quick assessment to see if we can help you improve efficiencies with things like on-boarding/off-boarding, total cost of employment and more:

Check out the rest of our Internship Mini-Series:
Post 1: What I Would Have Told My 20 Year-Old Self
Post 2: Internships Teach More Than Skills: 3 Interns, 6 Lessons
*Direct Messages