The country is in a different place right now. And it should be. The national conversation on race is long overdue.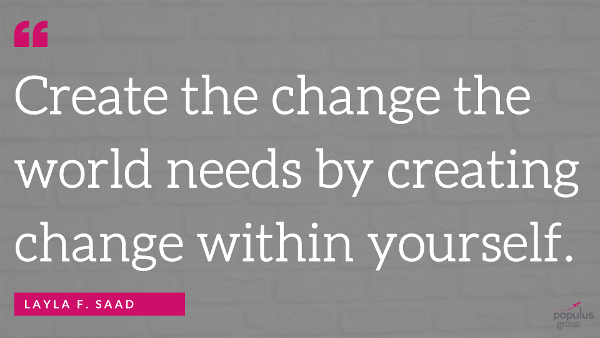 We see the protests, we watch the news coverage, we hear the cries for justice and equality on social media and we all feel impacted differently. Particularly for the Black community, in mourning once again, calling for justice once again, we want you to know our hearts are with you. As we've recently said, we believe it is our duty to stand up for our values and speak out openly against racism. We stand with you, and we know we need to do so much better.
Populus Group was founded on the principle that Everyone Deserves the Opportunity to Succeed. For us, it's why we exist, the core of our identity. As a Minority-Owned Business we've worked hard to build a diverse and inclusive culture that aligns with our beliefs. We've felt good about who we are as an organization and what we're building. And there are a lot of things we've done well: we've supported Black entrepreneurs and children in under-served communities through The Populus Project, we celebrate a community of climbers from diverse backgrounds and we have a Diversity and Inclusion Council whose core purpose is to help us live out these values within our community.
When it comes to race, as an organization, we have some blind spots. The killings of George Floyd, Breonna Taylor, Rayshard Brooks and countless others have led us to face the uncomfortable truth that we have not been there for our Black community the way we could or should. And as the recent weeks continued, it became clear that while we weren't prepared for the conversations we've been having, it was time to have them anyway.
We've taken some serious time to slow down, to reflect, listen, observe and connect with one another. We've begun educating ourselves, as individuals and as a community, to understand what's broken, and what we need to fix to provide the support our Black community needs and deserves. While there are major societal issues that must be addressed, our focus the last few weeks has been inward. Our Diversity and Inclusion Council convened and has been meeting regularly to create space for conversations, to provide resources and to guide our actions. We've held forums to make space for our climbers to share, listen and ask questions. It's small, but it's a start for us, and we know we have a long way to go.
The Starting Line is Different for Everyone
It's important to acknowledge that we're all at different stages of understanding the current climate on race in America. For those of us who are new to this conversation and consider ourselves allies to the Black community, beginning to understand systemic racism can be overwhelming. We appreciate that you're here and we invite you to join us in the learning process and in the important conversations we'll be having as a community. For those of you who are already actively taking anti-racist action, we see you, we appreciate you and we encourage you to keep going.
We believe that during the process of self-reflection, it is important for each of us to understand that we all have implicit racial biases and blind spots. If we don't acknowledge them, we cannot understand or dismantle them. This process of self-reflection is also a crucial first step toward action.
Some of the questions we're asking ourselves, and that we encourage you to reflect on as well are:
Have we educated ourselves on the history that got us to where we are today?

What is systemic racism and how does it show up?
Have we educated ourselves on what anti-racism means?
Do we understand implicit bias? Microaggressions?
Where do we seek out information and resources to dive deeper into the above questions?
Are we open to challenging our way of thinking and how we interpret the world around us?
Are we open to understanding the role we've played, as individuals and as a company?
These are hard questions, and the answers for many of us are uncomfortable. These questions heavily impact how we view and understand the current state of our country, especially when it comes to race. We encourage you to think critically about them and reflect honestly about where you are right now. We believe that regardless of where that is, this is a very important place to start.
Regardless of where you are right now, we're all here together.
We invite you to climb and learn with us.