As a Veteran Owned Business, we're passionate about the role Veterans play in our organizations and our communities. In celebration of Veteran's Day we asked our PG Veterans why they raised their hands to serve. Their answers are as interesting, diverse and colorful as they are.
Happy Veterans Day from all of us here at Populus Group!
Jessica Bitell
United States Navy Reserve

Aviation Electronics Technician First Class Petty Officer (E-6)
Engagement Specialist, Detroit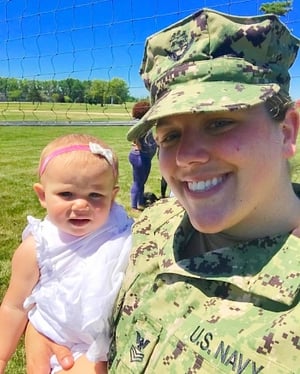 The summer I graduated from High School, I had an acceptance letter to the University of Michigan – Dearborn in hand. The mere thought of joining the military had never crossed my mind. However, things drastically changed by the end of my first month and a half at college that I found myself standing at MEPS on September 29, 2006, raising my right hand stating the Oath of Enlistment into the United States Navy Reserve. What lead me to this moment is the story below.
In High School, I never settled for the bare minimum, I was busy every single day with every extracurricular activity I could get my hands on. I thrived on team sports, Marching Band and clubs. It was the camaraderie, sense of purpose and fulfilling experiences that would draw me in. I spent the whole summer with four different friends leaving in the fall for the various branches of service. I remember specifically asking my friend why he would volunteer to do push-ups and get yelled at all day long. That was my ignorant view of what life in the Army was like. He just smirked and said, "You just don't get it and that's okay." However, it wasn't okay, I wanted to "get it," I wanted to understand. By the end of the summer, my friends were off to their respective boot camps and I was off to University of Michigan ready for an exciting and thrilling college experience.
It took 4 weeks for me to feel like something was missing. I was not a part of any clubs or sports, I was bored and going to a commuter college that was nothing like I had pictured it. It wasn't exciting, it wasn't fulfilling. I was missing the camaraderie and the sense of purpose. I wanted to do more, I wanted to be a part of something bigger than myself. I spent a few evenings at the library googling everything I could about the Military instead of doing my calculus homework.
By the end of that week, I went to watch my old Marching Band practice and the High School was just down the street from the recruiting station. I was trying to muster the courage to just go in and talk to someone. I ended up going in, walking down the hall past all four offices, turning around and walking right back out. I stood outside staring at all the recruiting posters for 10 minutes until I had the courage to go back in. I walked casually down the hall and the Navy office door was open. Petty Officer (now Master Chief) Charara came to the door and asked me if I needed anything. From that point, she answered all my questions, took the time to talk to me and just listen.
I enlisted a couple of weeks later and left for bootcamp nine months after that. It has been almost twelve years and I have no regrets! It was the perfect cure to my sense of purpose and filled that void of comradeship. I am thankful for my trusted friends who planted that seed, I am thankful for Master Chief Charara for being kind and never lying to me. I am thankful and honored to be able to serve in the World's Greatest Navy! (Note: Now imagine the shock and awe of my friend who had joined the Army, when he called me a year later to find out I had enlisted and joined the Navy. I told him, "I get it now, I understand").
Philip Biondo
United States Marine Corps Reserves
Recruiter Trainee, Chicago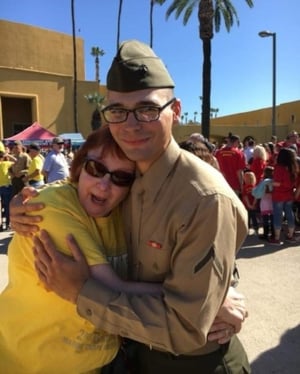 Why did I raise my hand to serve? I have always wanted to be a Marine since I was a little kid. My desire to serve stems from my Dad. He served in the Marines between 1970-1973. As I became older, especially in the last two or three years, my reasons for service changed. Yes, my Father's service remained the main driving factor, but my "why" got stronger and stronger. These reasons varied from personal to cliché. I have always been attracted to physical and mental challenges. The Marine Corps provides those challenges, and it is through these challenges that growth and betterment happens. I wanted the biggest challenge I could get my hands on. From day one, the Marine Corps throws challenges at you. The betterment starts on day one. I have never regretted my decision to join the Marine Corps. The day I finally earned the title, I cried.
I am currently a Lance Corporal (E-3) in the United States Marine Corps Reserves. I drill out of Great Lakes Naval Station in Illinois. I enlisted after I graduated college in May 2017. My Military Occupational Specialty (MOS) is 3043 – Supply Administration. The ultimate goal is become a commissioned Second Lieutenant in the Marine Corps.
I simply can sum up what drives me with this, "Someone has to do it, so why not me?" I am able to serve, so I do. It was my time to sign the dotted line and defend this country. I do not consider it sacrifice – I consider it a privilege to serve this country in the Marine Corps. I consider it a privilege when old, salty veterans tell me to take care of their Corps. I consider it an honor that my eight year-old nephew gets his haircut like Uncle Phil. I consider it a privilege to serve this beautiful experiment know as America. Semper Fidelis
Dominic Charleston
United States Marine Corps
Finance Manager, Detroit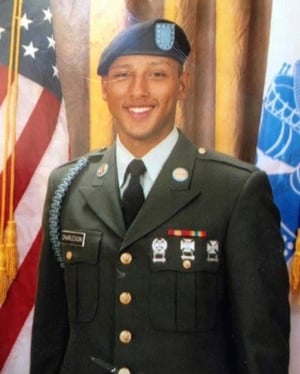 For me, raising my hand to take an oath to protect this country wasn't a glorious moment as portrayed in some movies. It wasn't a badge of honor to tout in front of my friends and family. It was something different, but I want to tell you something first before I give you my answer.
Not many people wake up one day and think, "I think I'm going to join the military because I want to honor our country." Despite what movies depict, not many people say, "I joined the military to go fight in the wars and become the ultimate soldier." In fact, most military personal joined because a parent or family member pressured them, or they resided on the other side of the opportunity divide and wanted to make something of themselves.
As someone who was just entering his twenty's, I was working as a courier working for a foreclosure law firm, driving all over Michigan filing legal documents with the courts. My mom would remind me that "adulting is hard"…and it was for me. I had energy, I was eager, but I didn't have structure.
In the military they teach you certain skills: how to shoot, how to fight, how to use a map and compass, how to survive in the worst conditions, how to be a team player and how to be an effective leader. Talk of war is rampant and most newer soldiers are curious to hear the war stories from some of those who went overseas. More importantly though, when you join the military, you join a brother and sisterhood and will have a forever bond with all your comrades.
I knew this about the military and I wanted it. I wanted structure and guidance. I wanted to learn how to lead others because I've always had a passion to help others. I just didn't know how to do it. I needed the military life and that is why at age 21, I raised my hand.
Dom's Tours:
2006 – 2007– 18 month deployment,
Talafar/Mosul, IRAQ
2008-2009 – 12 month deployment
Balad, IRAQ

Adam Dudak
United States Army Reserves
Manager of Payroll Services, Seattle
This is a simple answer for me, for the most part, I chose to join the Army because I enjoyed the camaraderie and the job. I joined the Army out of college through the ROTC program at the University of Montana, but what drew me into the program is probably one of the more unique paths. The Military had never been on my radar as an option prior to registering for classes for my sophomore year. But when there were no required classes available, but I still needed more credits, a friend and I saw an ROTC class. It looked interesting, it was some sort of competition-based thing, and we decided to go for it. Jump to the first day, and it turns out that you also have to be enrolled in an actual Military Science class to register, so…signed up for the 101 as well. There were a lot of good people with some really cool stories and jobs in the Army. The more that I learned about it and spent time around them that first year, the more appealing it was. There was a feeling of community there that I really didn't have before along with the opportunity to have leaders who truly cared about how I developed and grew. I then worked with the ROTC instructors to get all the basic requirements in a very abbreviated time frame. At the beginning of my Junior year I signed a contract. Two years later, I commissioned and have enjoyed every minute of it. To this day, people will ask how long I intend to stay in the National Guard, my answer is always "as long as I am having fun."
Bobby Herrera
United States Army
President, Portland, Oregon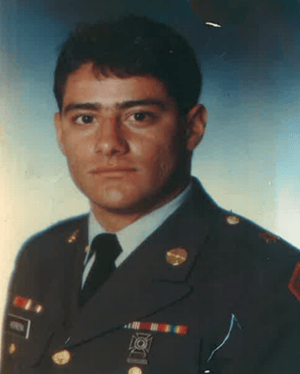 The day I turned 18, I skipped school to join the Army. I didn't tell my parents - they thought I staying at my best friend's house. My basketball coach, an Army vet, and my brother Ed were the only people that knew. The following day I arrived home late in the evening. My Dad was hot that I wasn't home yet. As he stood up to meet me I tossed my paperwork on the table and told him I had just joined the Army. He immediately softened…then he asked me; "Are you sure?" I said; "Yes Dad, I'm completing your dream." It was the second time I saw my Dad cry – as a young man he dreamed of joining the military and couldn't due to family hardship and aside from wanting to serve to start my journey – I wanted to close that hole in his heart.
Malik Miller
United States Army
Corporate Compliance Auditor, Detroit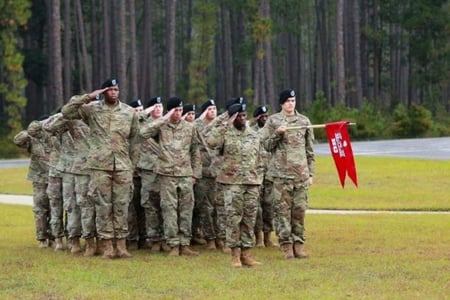 When I originally raised my hand for the Army I had no idea what the Army was. I was in a really bad place in my life at the time; working four hour shifts at Kroger in Roseville, Michigan, taking three buses to get there and back. I just woke up one day and went on GOArmy.com and sent an email to an Army recruiter saying I wanted to join the Army. The next day they picked me up. I took the Armed Services Vocational Aptitude Battery (ASVAB) and signed my contract. Two weeks later I was in reception. To make a long story short, when I raised my hand I had no idea what I was doing, but I was sure that I wanted to do something different with my life, no matter the cost.
(Malik is in the front left of the formation)
Steven Powell
United States Marine Corps
Strategic Delivery Manager, Detroit
Why did I raise my hand to serve this great country? I grew up without a father and very few positive male role models. I lived in a small town in Northwest Indiana and there was a local police officer who was a very positive influence on all of us kids. As I grew older and learned more of his story, I was impressed with his service to others. He had served as an Army Ranger during the Vietnam war and then became a police officer in our small town. It was his example that put me on the path to joining the military. In the fall of 1993 during my senior year of High School, I enlisted in the United States Marine Corps. The camaraderie with my fellow Marines and the sense of accomplish I feel from my time in the Marines is something that I will carry with me for the rest of my life.
Semper Fi!
Eric Schmitz
United States Army
Senior Technical Recruiter – Immigration Division, Chicago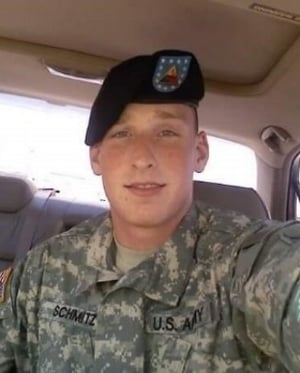 The several months of "Oh- Sh!&" moments just before graduation are what lead me to join the Army. I hadn't put a lick of thought into what I was going to do after high school and I only had a few months before graduation. I knew that whatever I did was going to set the tone for how I entered adulthood, but I really had no idea what tone I was trying to set. All I knew was that I always had an intuition from a young age to make sure I found purpose in whatever I decided to pursue. I wasn't the best in the classroom so college was out (although I always thought about law school.) I thought about joining a trade and becoming a carpenter. I also thought about public service. But, at 17, none of this sounded or felt like what I was looking for (whatever that was). I had a friend that was a class ahead of me who had joined the army several months before and had just completed boot camp, made it to his unit and was about to deploy. We had a lengthy conversation about how cool the training was, and what to expect. He shared some boot camp stories and some survival dos and don'ts and from that moment it was decided. I was going to join the Army. I told my family and started talking to an Army recruiter. From there, I went from graduation, turning 18 and leaving for boot camp in less than 60 days. It was honestly one of the best decisions I ever made for myself. It wasn't until I got into the Army that I started to understand all that the Army was going to teach me. And it wasn't until I got out of the Army that I started to understand all the ways the Army set the tone for my next chapter.
Cassie Wilson
United States Air Force
Payroll Services Coordinator, Detroit
I was about nine when I decided to serve in the military. At the time I don't think I even knew why but that didn't matter, that choice stuck with me. At the beginning of high school, I made a plan to join the Army as soon as I graduated. Although, by the time I reached senior year those plans had changed…I moved out at the age of 17 and was working my a** off just to pay the bills. By the time I graduated I was already so used to my routine, I decided not to pursue it anymore. Before I knew it, two years had gone bay, and I was two full time jobs just to make ends meet. I worked the day shift at my Uncle's pizza parlor, and at nights I cleaned car three dealerships, Ford in Rochester, Chevy Auburn Hills, and Cadillac in Center Line. I was tired, all the time. I started doing research and decided to move forward with my original plan. I went to a recruiter a few days later. Once I took the ASVAB and talked to many different people I decided to join the Air Force instead. About six months after making that decision I was sent to Texas for four months and then I was sent to South Dakota where I stayed for four years as a Crew Chief on the B-1's. Even though it was a very long, very cold, enlistment, I will never regret making that choice. I got so many good things out of it too and I am so happy to have had those experiences.
I was a Crew Chief on B-1 Bombers
James Zurheide
United States Navy
Onboarding Specialist, Seattle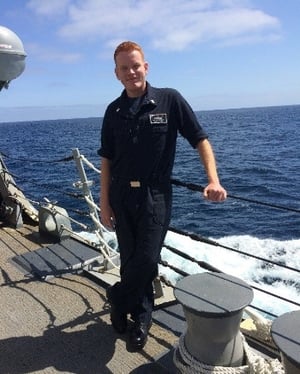 April 2005: I remember sitting at home, fresh high school graduate, dreading the next college class I had to attend. I felt that I was headed for the typical life cycle most of us experience: school, work, family, retire. This didn't feel right, so I decided to try something… out of the ordinary. I called my local Navy recruiter and six months later I was in uniform getting yelled at because my boots had bridges and my socks weren't rolled correctly; I wouldn't have had it any other way.