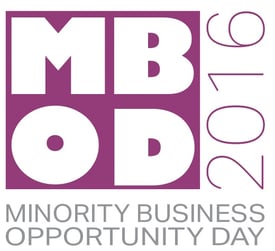 We are excited to attend Southern California's Minority Business Opportunity Day (MBOD) for the second year in a row. MBOD allows attendees from all over the country to meet and help address the needs of their companies. Diverse suppliers often bring a different approach to challenges customers face and how we can help them succeed. We spent some time with Cesar Ibarra as he prepares for the event this week.
Q: Cesar, what are you looking forward to at this year's MBOD?
A: I'm excited to spend time with some current contacts and make new connections, both within the SCMSDC and other attendees. I'm also looking forward to having my partner, Mario Lambert from our Chicago office, attend the event with me. Mario is looking forward to taking the time to build stronger relationships with leaders in the community; some nicer weather doesn't hurt too.
Q: Why are these events important?
A: To learn; period. Not only about what's new in the region relative to our industry and local connections, but what's worked and what hasn't worked in the past. Listening to the stories shared by the featured speakers as well as one-on-one conversations with fellow attendees are the best source for this. More often than not, we've found more value in the personal conversations we have with fellow attendees during lunches and networking events.
Q: What are you hoping to learn from the workshops and seminars?
A: Sharing knowledge with the community is a best practice of MBOD. Going to these events allows us to stay current with the industry and learn from leaders in the community. Some of the seminar topics this year are relationship building, trends in procurement strategy, and future state of supplier diversity. Afterwards we hope to bring the information shared to our partners and colleagues.
Q: Is there a specific speaker or session you're looking forward to?
A: Fernando J. Hernandez has been a major advocate for supplier diversity for years. This will be my first time hearing him speak and I'm looking forward to it. He will be speaking on the topic of "Technology Will Disrupt Your Company".
Q: What do diverse suppliers offer?
A: In our experience, diverse suppliers capture a broader range of talent that leads to consistent innovation. These suppliers challenge the status quo in their respective industries by approaching problems from a unique perspective to address the needs of their customers. More often than not, this entrepreneurial spirit is engrained in the culture of many diverse suppliers, and we're no exception. Having ideas and solutions developed by a diverse team of employees not only helps these suppliers remain innovative, it benefits their customers as well.
Are you attending the Southern California MBOD? Interested in connecting with Cesar and Mario at the event? Connect with Cesar and Mario and follow this event @SCMSDC and #MBOD2016.
Cesar Ibarra

Director of National Sales

Mario Lambert

Director of Strategic Sales & Channel Partnerships