Imagine this with me…
Your procurement team has the goal to grow your supplier diversity program by 15% in 2023. You work hard all year in identifying, vetting, and engaging with diverse suppliers and have the data to provide for year-end reporting.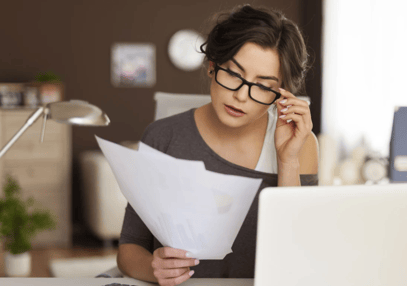 While sipping on your third coffee, you're creating your final presentation for your director and notice one of your suppliers, while minority, doesn't have the correct certification for a project that is directly funded by the government for a bridge repair. Taken aback, you then start digging and uncover 2 other government-funded projects that are not properly certified by the chosen suppliers, decreasing your original growth from 17% to 10%. You thought you were coming out ahead, but it looks like it's time to get the coffee brewing again…
Oof. Not only does this potential scenario have an impact on you, but it could affect your company and your ability to win future work. So, first things first, what is diverse spend?
Diverse Spend Basics
Diverse spend refers to the amount of procurement money companies spend on small or certified diverse businesses (over 51% ownership required). The most common categories are minority, women, veterans, LGBTQ, or disabled-owned organizations.
When partnering with these diverse-owned suppliers, corporations can track the dollars or percentages of total procurement spend. Diversity spend helps drive companies and communities forward because it increases your companies' innovative thinking which results in profitability, all while supporting diverse economic growth in smaller local communities and the economy at large.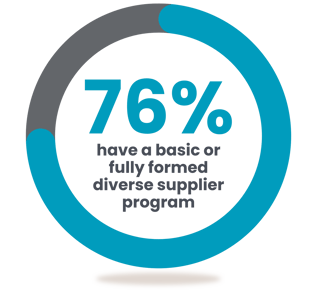 According to a report published by supplier.io, 76% of respondents have a basic or fully formed diverse supplier program. So, you could say it's a vital piece in operating a successful, relevant organization.
Resource: https://www.supplier.io/2022-state-of-supplier-diversity
Wanting more details about diverse spend in general?
Click the link below to learn more about best practices for achieving diversity spend in the Gig Economy!

What's the big deal with corporate vs. government?
When it comes to capturing diverse spend from these organizations, it's important to know that the supplier is not only certified with an organization like National Minority Supplier Diversity Council (NMSDC) or National Veteran Business Development Council (NVBDC), but also what government certificates they hold by federal, states, counties, or cities.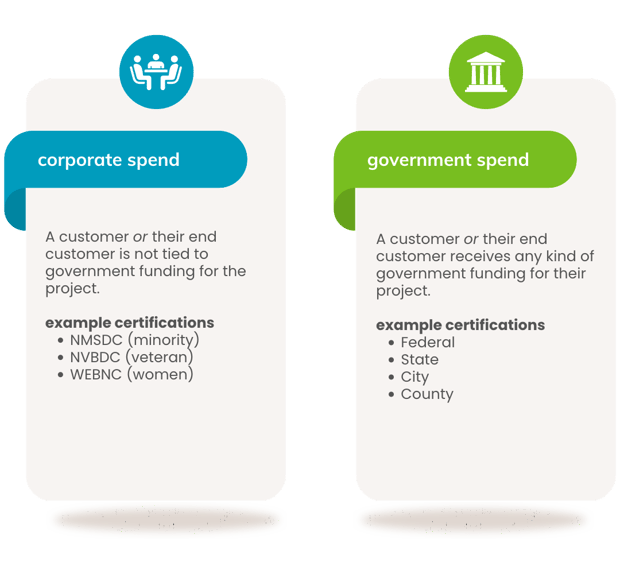 Any project that is funded by the government should engage with a supplier who holds the correct federal, state, county, or city certifications for the spend to be counted.
It can get complicated, but the good news for you is that Populus Group works hard to uncover these details during any discovery call to make sure you are set up for success in front of your customer. Populus Group is certified with the National Minority Supplier Diversity Council as well as the National Veteran Business Development Council, along with many cities and states. We also always have an appetite to see what else we could qualify for in the event of a new need arising.
Don't let the complex nuances of diverse spend requirements hinder you from meeting your business goals. Connect with our team of experts to help guide you in making the best decision for your supplier needs.