Happy Birthday America! We think one of the cool things about the Fourth of July is not just why we celebrate, but how we celebrate. This holiday is particularly special because the similar and different ways families, friends and communities come together--it's kind of like a symbol of why our country was founded. #soMeta
We all have our own pasts, traditions, favorite foods and drinks, but there some awesome common threads. We believe our unique differences should be celebrated and embraced, and not just when it comes to the Fourth, but all the time! In that spirit, this week some of our Climbers share how they celebrate Independence Day. Be prepared for some awesome food and drink ideas!
How Our Climbers Celebrate America's B-Day!
---
Megan Anderson, Content Manager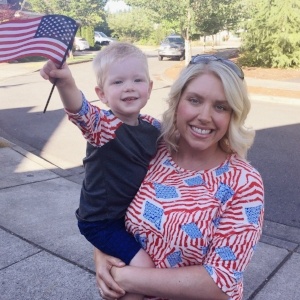 Lucas and Megan
Our family celebrates America's birthday by eating yummy food, typically of the BBQ variety, drinking beverages (for me it's all about the potato salad and a nice cold gin and tonic). And of course, we love watching the fireworks! Since we're in the PNW, it's a little hit or miss if we'll get a sunny day, but have been really lucky the last few years and I've done my best (not always successfully) to avoid a sunburn 😊
Brandon Bates, Regional Account Manager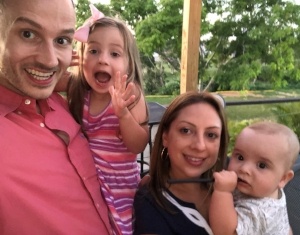 From left: Brandon, Madison, Candice and Brandon Jr.
We always BBQ at a friend's house prior (July 3rd usually) and then go to the in-laws house for the 4th . I married a lady with a lot of family, so the party is pretty big (30 people). We all jam in the backyard and hang out all day. My 4th must haves are beer with the ice sliding down the side of the bottle, BBQ food – burgers, chips, salsa, potato salad etc. Although I cut a lot of these treats out for normal life, its a non-negotiable for the 4th!!
Jaime Castillo, Operations Analyst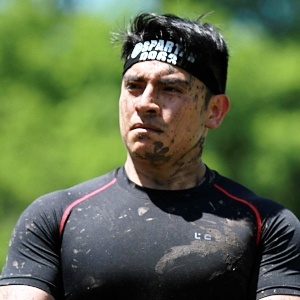 I celebrate the 4th with friends and family by blowing up some fireworks. I also like to have a cook out with plenty of burgers and arrachera for sure and drink tons of beer. This year, all of that will be done while recovering from the Spartan race from last weekend.
Marcella Cheng, Payroll Services Administrator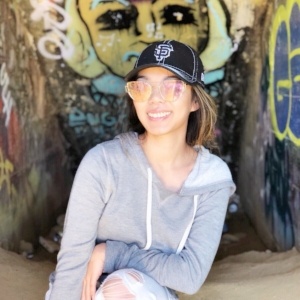 Typically during July 4th, my friends and family host a BBQ. We eat, drink and spend time together. You can find me enjoying raw oysters on the half shell, and sipping a Tito's on the rocks. At night time, we watch the fireworks light up the sky.
Sydnie Chy, Supply Base Specialist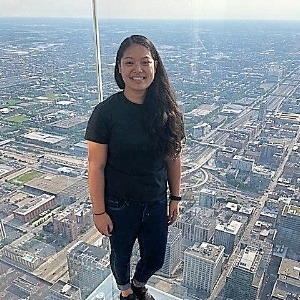 I usually spend my 4th of July BBQ-ing with friends and playing at their houses or a park. We love to do potlucks, smoked ribs are my favorite, but I'm happy to enjoy the spread even if they're not on the menu. And of course, I love lighting and watching the fireworks displays (they're legal where I live!).
Jennifer Colburn, Internal Recruiter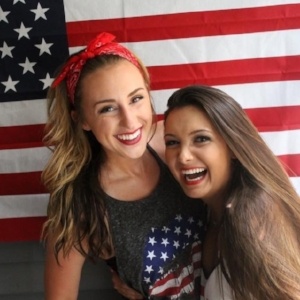 Jen (left) and friend/college roommate Erin
This year I'll be heading down to Peoria, Illinois to be with my boyfriend and friends for the 4th! We typically have a BBQ and go swimming in the river, and then head downtown for some fireworks. I look forward to the hot dogs (Chicago style, of course) and Margaritas! It's usually a laid back day full of good food, good company and good drinks.
Chance Davis, Senior Director of National Accounts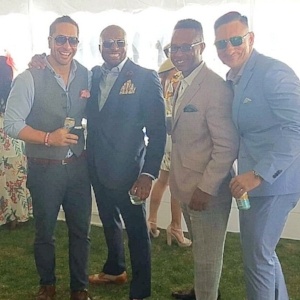 Chance and his pals, from left: Troy, Chance Ian and Eric.
I always look forward to the 4th because it's best holiday to gather friends and family from all parts of your community...friends, family, co-workers, etc. For me, I love to celebrate with some good BBQ brisket and a spiked lemonade. My friends and I love to play a competitive game on corn hole into the evening hours.
I can't wait until Wednesday!
Venera Deda, Implementation Specialist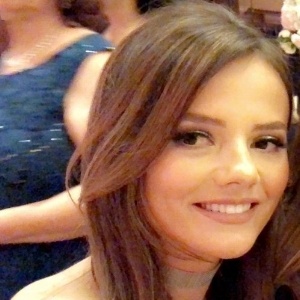 I celebrate 4th of July by spending time with family/friends, barbecuing and being grateful for the freedom that America has provided me with (I'm originally from Albania!). While where I celebrate changes from year to year, ribs are always my favorite part!
Stef DeStefanis, Onboarding and Training Specialist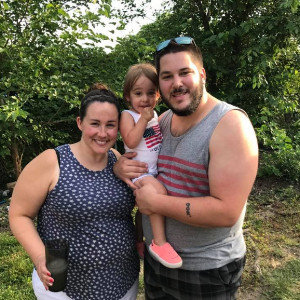 From left: Stef, Madalynn (Maddie Mae) and Donald
We host our annual 4th of July party at our house. Friends and family come for the day and we celebrate 'Mericuh with good food, dranks and as our nephew calls them, "Ultimates." "Ultimates" are the little fountain fireworks that you can buy at Walmart that are by no means, ultimate. A few things that are always involved in our family 4th of July celebrations: Sparklers, a bonfire, s'mores, a blow up kiddie pool, red, white and blue Jello shots (red are my fave because they're laced with Fireball), and as far as food goes – for me it's hot dogs, all day every day.
Derek Kimmerle, Customer Success Manager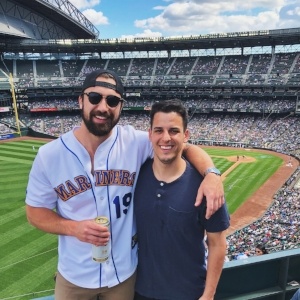 Derek and his pal Greg
For me, the July 4th belongs to the Seattle Mariners! My friends and I will be celebrating with sunflower seeds, hoppy beer, and America's pastime.
Matt Mackaluso, Director, Strategic & Channel Partnerships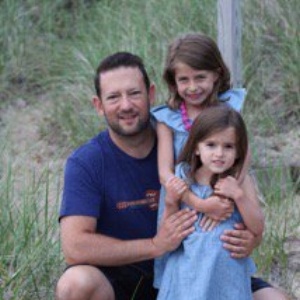 Clockwise from left: Matt, Sophia and Harper
For the 4th of July, typically we're up north or on the west side of Michigan taking the kids to a parade, grabbing ice cream, watching the Blue Angels and finding the best place to catch the fireworks. Some years we stay home where we hang out with neighbors (swimming and grilling), and usually ends in a few of us dads (with me leading the charge) lighting fireworks. It's one of our family's favorite holidays of the year!
Lauren McAllister, Manager of Payroll Services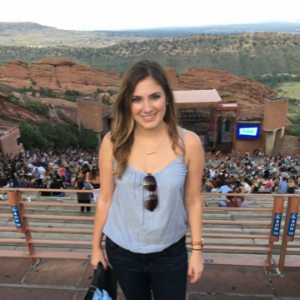 For me the 4th definitely varies year to year. When I was a kid, we would typically go to family and friends houses, BBQ and do sparklers with all the neighborhood kids in the cul-de-sac. Last year was my favorite though: I went to my friend's house and we swam, played lawn games, ate and ended up watching fireworks from the fair at the top of the hill her house is on. I discovered my favorite – oatmeal chocolate chip cookies at a 4th of July party more than a few years ago and always look forward to chips and guac!
Fadi Michail, Business Operations Associate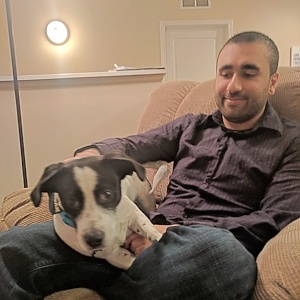 I love to spend my 4th with high school friends that live out of town. We always make a point to get together whenever we have the chance. We typically hang out around by the pond in friend's backyard. I look forward to devouring some cheese bratwursts and sipping tequila on the rocks. We buy a ton of fireworks and set them off ourselves.
Julian Pena, Customer Success Manager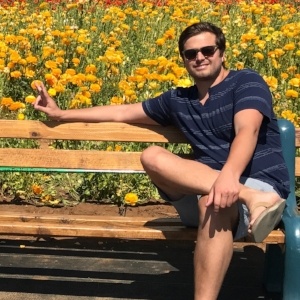 I celebrate the fourth by making it a point to get out into the sun, stay in the pool past the wrinkle point, and wearing all the American flag clothing I have been hoarding over the years. And while it may go without saying, the ideal fourth of July also includes an adult beverage (in slushy form) in hand for most of the day.
Rachel Ravalee, Recruiter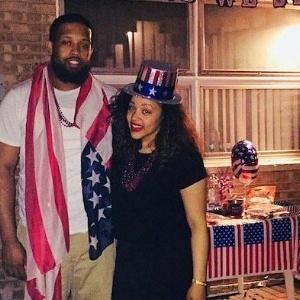 Rachel and her boyfriend Antoine
The 4th of July is always a special time for me and my family because it's our annual family reunion! We have a pretty large family--my mom is one of nine. It's always fun to ask my grands how many grandchildren / great grandchildren they have (they can never get it right lol). We all bring a dish pot luck style and gather at one of my aunt's homes. I always look forward to my Uncle's famous lasagna--he adds extra ricotta cheese just for me! I also love a good Moscow mule in the summer! If you add some fresh watermelon juice it's amazingggg. There's always music and a ton of delicious bbq to enjoy! When it gets dark, we help the kids light small fireworks and sparklers. Sparklers are my fave! It's a great time to catch up with everyone and just enjoy company from the family you don't see every day. We all wear July 4th attire and stay up all night. Happy July 4th everyone!
Jessica Ricker, Manager of Payroll Services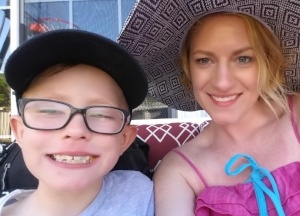 Tommy IV and Jessica
This year for the 4th I will be picnicking with my family and friends, enjoying burgers, brats and margaritas. This year I'm hoping to spend most of my time relaxing in the pool. We'll also take a family walk down to the Fox River by our house to enjoy the fireworks.
Becca Rosano, Employee Retention Specialist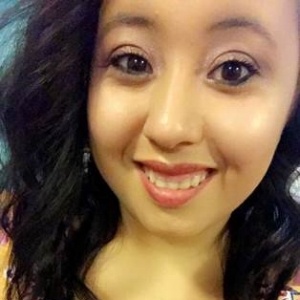 The Fourth of July for me has always been a day to celebrate our country. I always take the time to slow down and spend time with family and friends on the fourth. I usually go to a barbecue with friends and family. I pretty much love anything that comes off the grill, paired with some lemonade or a cold beer. At night we usually watch fireworks at local festivals, though last year I was in Portland, Oregon for the fireworks and it was absolutely amazing.


Jillian Seidl, Strategic Account Manager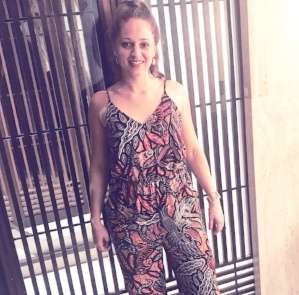 My Independence Days are usually filled with grilled food and a few (or so) Budweisers (regular, not Lite!). As a kid, my tradition was to eat red licorice and lay on my grandparents tile floor in their basement to stay cool until it was time for fireworks. As an adult, I skip the tile floor and the fireworks and focus on eating a ton of licorice with my fam before the kiddos leave for fireworks.
Nellys Siria, Payroll Services Cooridinator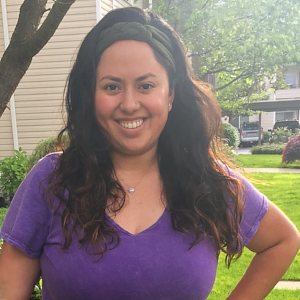 I celebrate the 4th with my fiancé at a cute little beach right in front of our home, Gene Coulon Memorial Beach! We pack a picnic lunch, which always includes watermelon and a local favorite, Tim's Jalapeno Chips, and a nice chilled drink (my fave is Malibu mixed with pineapple and orange juices, or Lacroix). We spend the day sitting by the water enjoying the breeze, the view, and awesome food. I'll usually take a book with me too and just spend the day relaxing out there, until it gets dark and it's time for fireworks!
Daniel Soltero, Payroll and Human Resources Coordinator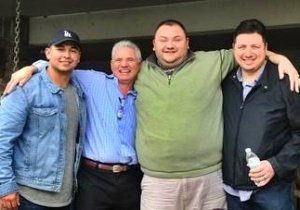 From left: Danny, Exequiel (father), and brothers Brandon and JR
I tend to spend the 4th with my parents if they aren't out of the country this time of the year! I love having the familia get together to watch the sky light up, enjoying each other's company with good food and drankz! My personal favorites are carne asada tacos with guac and pico, and of course a nice chilled margarita!
Justin Stewart, Technical Recruiter, Immigration Division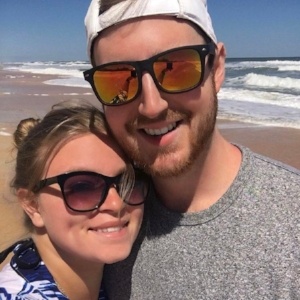 Justin and his girlfriend Nina
Even though I celebrate the 4th of July the same way every year, I won't ever get tired of it! Each year it starts with a pig roast and grilling some burgers and brats with my girlfriend and both of our families. We spend the bulk of the day outside eating, talking and playing music which of course includes Whitney Houston's 1991 singing of the national anthem. To end the day; when the sun sets we bring out the homemade firework-launching table and set off our very own lights show!