2015 is coming to a close and if you're like us, you're already thinking ahead to 2016. Here's a look at some of the trends that have impacted the contingent workforce this year and what will continue to impact it in 2016 and beyond.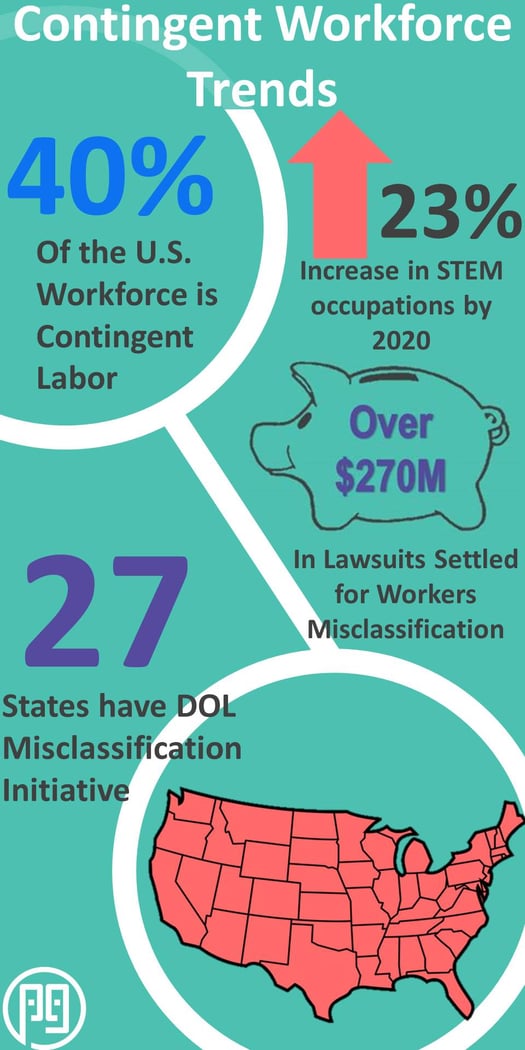 1. The Contingent Workforce Continues to Grow
According to the United States Government Accountability Office, 40% of United States labor is part of the contingent workforce, i.e. individuals who work for an organization on a non-permanent basis. This percentage has increased year over year resulting in many changes in how most companies do business and hire employees. Hiring contingent workers allows employers more flexibility as hiring needs fluctuate as well as access to new talent and cost savings.
2. STEM Industries Have a High Demand for Talent
There continues to be a significant need for talent in STEM (science, technology, engineering, and math) skillsets. A report by the National Science Foundation projected 23% growth in math and computer science fields by 2020. With a limited amount of this talent available in the U.S. job market, the only other option at the moment is looking for it abroad. Availability of H-1B visas is becoming the alternative to this issue of industry growth; earlier this year I-Squared Act was passed to allow more access to global talent.
3. Worker Misclassification is Getting Major Attention
This year six new states have been added to the United States Department of Labor Misclassification Initiative bringing the total to 27. Now that over 50% of states have an initiative and funding to combat worker misclassification, we've seen more lawsuit settlements for these cases than in previous years. Still not sure if you're classifying your workers correctly? Check out our recent post for more about the difference between Independent Contractors and Employees.
4. Misclassification of Employees Has Repercussions
Over $270 million was paid out for suits involving misclassification of employees. FedEx had the biggest settlement this year involving claims for over 2,000 drivers totaling $228 million. Uber, Lyft, and Amazon all have lawsuits pending for worker misclassification and we expect to see more lawsuits and settlements in 2016.
Do you need help staying on top of industry trends? Subscribe to our blog and stay informed on the latest trends and how they may affect your company. Feel free to contact us with any questions.