September 15 – October 15
A time to celebrate and recognize the contributions, cultures and traditions from the Hispanic/Latino communities!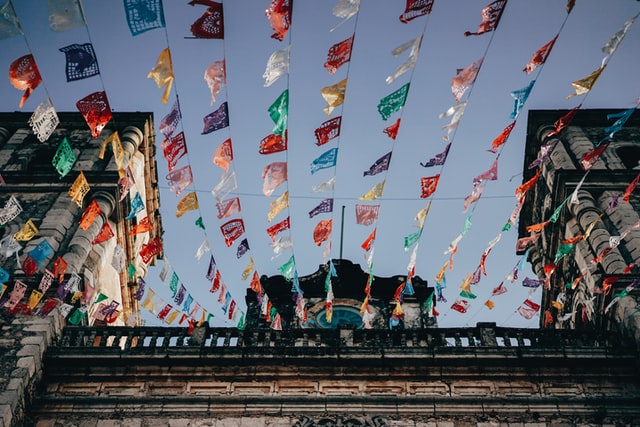 The word Hispanic refers to any person who can trace his or her roots to a country with a native Spanish speaking language. There are 21 countries that list Spanish as their official language and are part of the Hispanic community. As of 2019, the Census Bureau estimated about 60.5 million people with Hispanic heritage living in the U.S., which is 18.5% of the overall population. More than that, Hispanic customs and traditions have become a part of American culture.
National Hispanic Heritage Month is observed from September 15 to October 15 every year. This is a month full of celebration and a dedicated time to recognize the richness from all Hispanic cultures. During this month activities, traditions and cuisine are celebrated throughout the United States. Authors, poets, and performers share their arts with the public. Food, clothing, and music from Hispanic countries are shared and celebrated throughout the country.
Though historically it was only set for a week when it was originally observed in 1968 under President Lyndon Johnson, in 1988 it was expanded to an entire month by President Ronald Reagan and was enacted into law on August 7.
The dates September 15 – October 15 were chosen due to the many important dates celebrated within the Latino community during this time:
September 15 – Independence Day for Honduras, Guatemala, El Salvador, Nicaragua, and Costa Rica
September 16 – Mexico's Independence Day
September 18- Chile's Independence Day
October 12 – Day of the Race in Latin America (Dia de la Raza) – this day celebrate the diversity of Latin America
So, let's celebrate our proud Latino/Hispanic friends, family and colleagues!
Mexican Independence Day – La Independencia De Mexico
Mexico's Independence Day is celebrated on September 16th (not to be confused with Cinco de Mayo which is known as the Battle of Puebla, you can read about the history here). Independence Day is a day where every city and major town in Mexico reenacts the historical moment, Cry of Dolores, that happened on September 16, 1810. On this day, Miguel Hidalgo – the leader of the Mexican War of Independence- rang his church bell and delivered a powerful speech that sets the war of independence from Spain in motion. Every year, the bell rings three times at mid-night, the Mexican flag is waved, and Mexicans from all over the world shout pridefully," Viva Mexico! Viva!"
This day is filled with national pride colors, parades, ballet folkloric dances, mariachi concerts, food, and fiesta (party)!
As part of Hispanic Heritage Month, we wanted to share something everyone can enjoy—delicious food! Below are some of the various types of tamales that you can enjoy in celebration of Hispanic Heritage Month and the vibrant ways Latino traditions and culture adds to the fabric of our communities:
Tamales from Latin America!