Earlier this year, we added an exciting and necessary role to our community – Head of Diversity, Equity, and Inclusion (DE&I). As a Minority and Veteran owned company, DE&I has always been part of who we are and drives our core purpose – that everyone deserves the opportunity to succeed. Like many organizations, we've created a more intentional focus on our DE&I efforts over the past few years, and adding this role is one of the key commitments we made for 2022.
I had the pleasure of spending time with our new Head of DE&I, Taniesha Thomas, to congratulate her and talk about her goals in her new role and Populus Group's DE&I efforts this year and beyond.
Taniesha is an extremely passionate person, especially when it comes to fostering a diverse, equitable, and inclusive community for everyone here at PG and extending that beyond our walls to our customers, partners, and contract employees. We couldn't be more thrilled to have her leading the charge, so read on to learn more!
Why are you passionate about this role? What led you to apply?
Helping others find and amplify their voices has been a passion of mine for a long while. There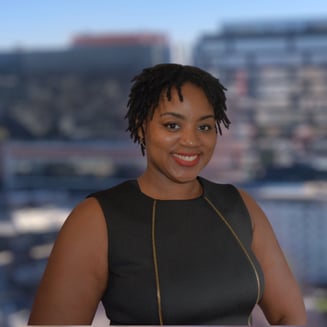 are distinct times in my life when I can remember being a young black woman who needed help. I found comfort and confidence in those people who decided to speak up for me and encouraged me to speak up for myself.
My "official" diversity and inclusion journey started some years back as I first entered the staffing industry. I continued the work at Populus Group on a voluntary basis through our D&I council. When the opportunity to make this my full-time job presented itself, I couldn't resist. Nothing excites me more than being able to spend my entire day working to create space and opportunity for those who may not have it afforded to them regularly.
In your opinion, what's the most important problem to solve in the DE&I space right now?
One of the most important problems to solve right now is making sure we take the topic of Diversity, Equity, and Inclusion from a moment to a movement. We've seen an increase of DEI professionals being brought into organizations off the heels of some very turbulent social justice events happening around the nation. It's important that we lean into these roles as strategic advisors and continue to move our organizations away from being reactive and instead being proactive and visionary.
In a short summary, what is PG's focus when it comes to DE&I?
PG is focused on making sure we are impacting our internal workforce and those organizations we partner with through our purpose. We are founded on the belief that everyone deserves an opportunity to succeed. We strive to make sure we are attracting, retaining, and including diversity at every level.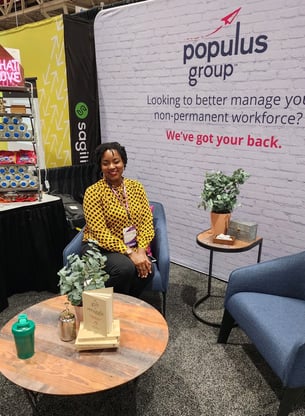 What are your initial goals as the Head of DE&I at PG? How will you push PG in the right direction to hit these goals?

I'm very ambitious so I have quite a few goals! However, on this journey, I've learned that the best way to get things done is to stay steady and stay the course. So, for the next few months, I'll be focused on continuing to build out our Employee Resource Group (ERG) program by aligning them to our 3 focus pillars: People, Partners, and Purpose. I'm also working on harnessing our DE&I data for assessment and transparency. This includes both internal and external. We need to identify our opportunities. In addition, I'm working closely with our DE&I Council to reignite our partnerships in the community so we can continue to serve underprivileged youth and veterans both locally and nationally.
Pushing PG in the right direction means making sure this is a collective effort and ensuring we are embedding DE&I in all that we do. I have regular connections with our executive team, which is important to keep the organization aligned from the top down. I'm also serving as an advisor to many other projects being created and implemented throughout different departments for recommendations and perspective.


What are you most excited about in this role?

Two things really excite me about this role. The first is that the Head of Diversity, Equity & Inclusion role is brand new to the organization. This investment shows that PG values what DE&I brings to the organization and considers it a priority. I'm also excited that they chose me! I'm honored.
The second is that I'll be able to dedicate my full time and energy to serving our community internally and externally from the DE&I perspective. My passion has finally become my day job, and there are so many great things I want to help bring to PG. Now I finally have the space and opportunity to slow down and share my knowledge, recommendations, and insight with everyone. I've been working hard for this.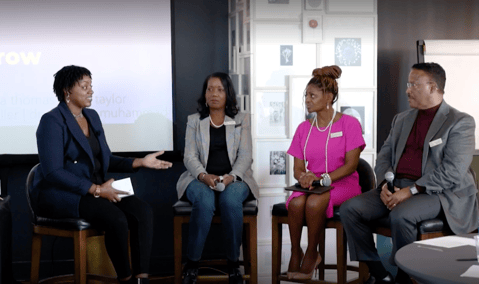 DE&I Panel at the Populus Group Customer Summit in Nashville, October 2022
What challenges do we face?
There are quite a few challenges we face as we strive to build a healthy organization. One is continuing to marry qualitative and quantitative data to get a true understanding of our story which we can build upon.
What are you doing to learn more about this space and how to enhance PG's presence in it?
I recently finished a course through Ecornell and became certified in Diversity & Inclusion. I continue to lean into frequent connections with other DE&I professionals across many industries and at various levels to learn and grow. Podcasts and web series bring plenty of value to me at this time. It's where I hear from people who are in the trenches and doing the groundwork. A lot of innovative ideas and unique perspectives are birthed in those spaces. As well as attending larger events where I'm able to network and share a bit of our story, which is very important for how we show up in the market.
How will PG's DE&I program contribute to the success of the company?
As we know diversity brings forth innovation, efficiency, and profitability amongst other things. If we can continue to create a space where a vast variety of people want to work with us and continue to stay and build with us, it increases our trajectory for success.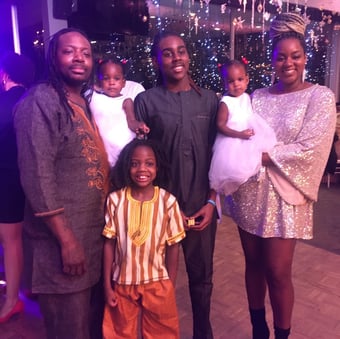 Taniesha and her family
What do you do when you're not working?
When I'm not working at PG, I'm usually being a mommy to 4 beautiful children or crafting. I spend a great deal of my spare time working on self-care products as well.
Favorite food?
Does wine count as food? No, seriously... it's pasta. Give me Fettucine or mac and cheese and I'm happy.
Favorite hobbies?
I'm a foodie, so I love finding new restaurants and bars in the city. I'm also really into sports, so getting to the stadiums as frequently as possible is always a goal.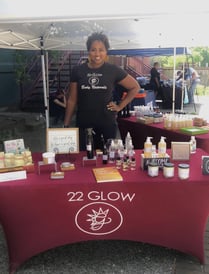 Other fun facts you want to include?
I started a business during the pandemic named "22 Glow" of which I am super proud. My goal is to help the regular person find time to indulge in self-care of the mind and body without breaking the bank. We all can use a little TLC and it's important we slow down to create space for it as a necessity. We carry natural skin care products and mental health items. Visit 22glow.org - 22 Glow Body Naturals. Self-care made simple!
Congrats again, Taniesha! We are so excited to see what is to come through your leadership within PG.
Share your well wishes with her in the comments below! 😊