One decision can change everything
My journey from working at a grocery store while attending the University of Houston, to becoming a US Marine, stationed at the White House as part of the Marine One HMX-1 Presidential Security Squadron, has shaped who I am today.

After high school graduation, my goal was to be the first in my family to earn a college degree. I did not have a college fund to pay for school and being raised by a single mom who had five other children, I was on my own to pay tuition. I continued to live at home so I could help my family, work at the local grocery store and attend classes. I was stressed. I did not feel like I had a purpose. To make matters worse I had little time to spend with friends. I found myself turning down invitations to parties on a regular basis. I would often see my friends coming into the grocery store, laughing and joking as they bought beer, and waving goodbye on their way out. I felt like I would never be able to get out from under the burden of my responsibilities and enjoy my life.
Feeling like I had no other options, I dropped out of school. This decision had a trickledown effect. My mom would only allow me to continue living at home if I was in school, dropping out meant I also had to move out. As an 18 year-old, with only a high school education, my options for being self-sufficient were limited. I decided to join the US Marine Corp.
Two choices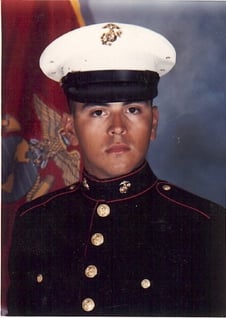 When I arrived at boot camp, I quickly learned we all have two choices: fold, or dig deep and make it happen. My new world was uncertain and I had to find a way to overcome my fear and doubt. The words of my dad played over and over in my head, "Son, the Marine Corps is too hard and you will never make it." Failure was not an option! During boot camp, a switch in me flipped. I found the strength I needed and I learned that by working hard I was in control of my level of success. The most valuable lesson I learned from my time in boot camp was, when backed into a corner you need to believe in yourself, trust your training and always fight like hell.
After boot camp, I went to the Military Police Academy and graduated the top of my class. This honor gave me the option of selecting my first choice when applying for my next assignment. That was great, however I did not know much about my options. I met with my S-1 Admin Officer and asked him one question, which assignment would be the most highly selective? Without hesitation, he responded Marine One Presidential Helicopter Squadron. He was very clear that if my application was turned down, for any reason, I would be sent back to the fleet, mainstream Marine Corp. It was a gamble and I decided to roll the dice.


The Whirlwind and the White House
I completed my training and received the highest security clearance offered by the United States government, Yankee White Top Secret Clearance. I was ready to get to work. My first assignment was to travel to Andrews Air Force base and receive President George H.W. Bush Sr. from an overseas trip and transport him and his staff back to the White House by helicopter. It was surreal, standing at attention on a hot tarmac, saluting the Commander in Chief. As I stood there, my mind was consumed with the thought that just a few months prior, I was living at home, working at a grocery store, going to school and trying to make sense of my life. I was thankful in that moment that I did not give into the fear and doubt, that I found the strength and I made the most of my situation.

My time with the President
One of the greatest honors in my life has been to serve both President George H.W. Bush Sr. and President Bill Clinton. It was a privilege to travel the nation and the world with these two great men. On the road, both presidents held themselves and their staff to the highest standard. They were dignified and respectful, they were dedicated and intelligent and their conduct left a lasting impression on me. Many of my fondest memories are those that happened behind the scenes. Some of the time I cherish the most include the days spent with President H.W. Bush Senior and his family at Camp David. An avid runner, the President would call down to the hanger (where the Marines slept) early in the morning to find running partners. I loved to join him on his runs and while technically I was there to protect him, he never made it feel that way and he always treated me like family. Running under the trees on the dirt trails, we would talk about everyday things like sports, he especially like to talk about baseball and his favorite team, the Houston Astros.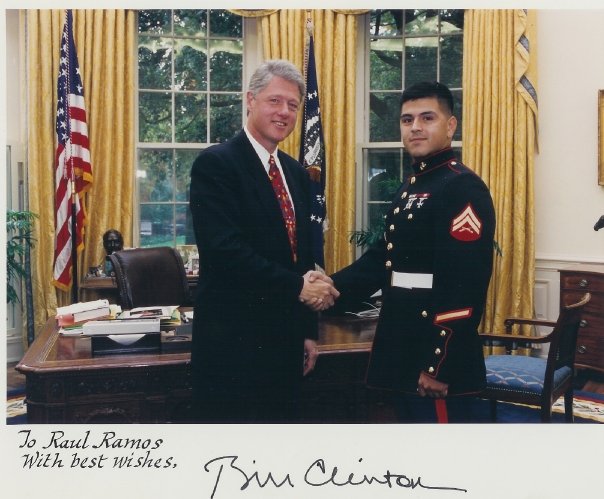 When I reflect on my time spent in the Marine Corps, specifically during my assignment at the White House, I am humbled and filled with gratitude for the things I was able to do and see and for the people I got to meet. During my service I met Pope John Paul II, greeted Mikhail and Raisa Gorbachev on a pitch black night in the middle of a grassy field (I later received a bear-hug from Raisa for making her feel safe), I shared Thanksgiving dinner with the Bush family, I met Colin Powell and many other world leaders. I have traveled to all 50 states at least three times and have been to more countries than I can almost count. Also during my time at the White House, I was able to re-enroll in college, finished my degree and became the first in my family to graduate from college.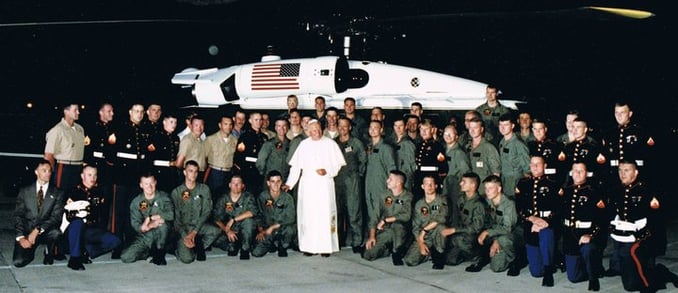 Appreciating Our Veterans on this Day
Aside from a few pictures that were taken during this time, these memories reside mostly in my mind. Like so many veterans, I find talking about my service and my experiences somewhat unnatural and uncomfortable. There are veterans among us everywhere, and the harrowing stories they carry are as much a part of them as the air they breathe. When I speak to other veterans, I am captivated by the stories and reminded of their sacrifice of service. Like many, the military chapter of my life has come to an end, but we carry the ways that it shaped us and our identity with us forever.
Fewer people and organizations, it seems, take the time to truly connect with our veteran population. Behind the uniforms, tradition and discipline, there is true sacrifice. I want to take a moment to thank all the veterans and their families in our community at Populus Group, and beyond, for their service to our country. These men and women who have served in the armed forces, and their families, have given their lives to protect our country, our democracy and our values. This is an amazing gift! Whether a chapter, or in totality, for me this gift deserves a moment of pause and gratitude, especially on days like today.
An appreciation for our veterans is one of the things that drew me to Populus Group. As a veteran-owned company, PG's veteran-friendly values resonated with me. The people who have served our country understand commitment, perseverance, dedication, composure, teamwork, and so many other things that lend infinite value to any organization. The next time you interact with a veteran, take a moment to think about the many ways their experience has shaped them. Take a moment to reflect on the sacrifices he or she made. This perspective helps us appreciate and understand, which unites and connects us as Americans, and as people.
This President's Day, I am thankful for the opportunity to not only serve a great country but do it alongside two United States Presidents' who love this country more than any of us could ever imagine. For this experience, I will always be grateful.
Happy President's Day.