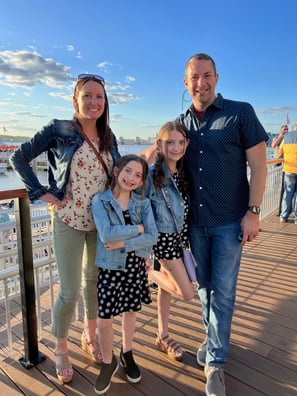 Here at Populus Group, we believe in not just reaching new heights, but also lifting others up. We're proud to dedicate this #PGProfiles blog to a member of our team who embodies this spirit every single day: Ryan Pinho.
As a dedicated Sales Climber with Populus Group for 11 years, Ryan Pinho's expertise and compassionate mentorship have been invaluable. He not only reaches new heights, but also lifts others alongside him, personifying our ethos perfectly. Here's to Ryan, a trailblazer whose passion and leadership continue to inspire us all!
Tell me a little bit about yourself.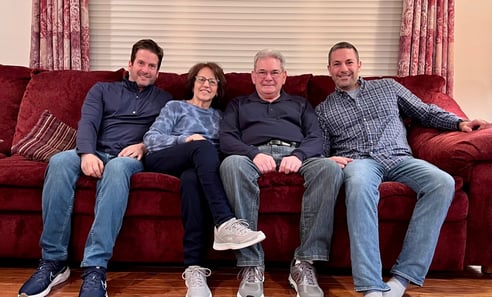 I grew up in southern New Jersey close to the beach, went to Rutgers University, moved up to NYC, and lived and worked in and around there for many years before meeting my wife, Laurie, and starting our family in Central NJ. We have two daughters, Mila (9) and Summer (8), that can't seem to stop making videos of themselves dancing. When we're not driving them all around the state for their activities, we like to spend time with friends, be outdoors, go to concerts, play tennis, go to amusement parks, and swim.
How long have you worked at PG and what has kept you here?
I have worked at Populus Group for over 11 years. While it is a rewarding job for sure, it's the people I work with and the fun times we've had that keep me here!
Tell us about your PG career journey so far.
I came to Populus Group to start the Sourcing program on the Immigration team back in 2012. Since then, I have morphed into selling all of our services at a higher level on our Business Development team to create more opportunity for all.
What was the job you earned your 1st paycheck?
My first job, I worked at a beachfront hotel in Long Beach Island, New Jersey at the age of 14.
What's the best advice you'd give someone who just started their career?
Work hard, have fun, and make as many connections as you can. More often than not, it's all about who you know.
Do you have a pet? If so, what are they like?
We had two cats (Bug and Lily), but Bug died suddenly last year. Younger sister Lily is now the queen of the house.
Recommend a book, tv show, or movie you recently enjoyed.
I'm sure I'm forgetting many, but recent shows I've liked are Succession, Shrinking, Ted Lasso, The Righteous Gemstones, Barry, and Platonic.
If you were a sauce, which would you be and why?
Marinara. It instantly makes everything better. Pasta, burgers, fries, chicken, pizza, all the good things.
List anything else you want us to know!
My favorite PG memory is definitely climbing Mount Rainier (picture below), but excited to see what's up next.

Until next time! Leave a comment below to shout out Ryan and thank him for sharing!