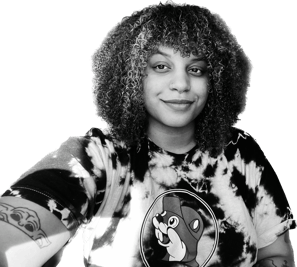 Welcome back to #PGProfiles, our platform to spotlight the vibrant stories of our climbers at Populus Group! This edition features our very own Tarryn James, a recent grad and passionate member of our Pride Alliance ERG. Tarryn's journey is not just about their professional growth but also their commitment to diversity, equality, and inclusion. As we celebrate Pride Month and graduation season, we're excited to delve into Tarryn's unique narrative. Get inspired by her climb!
Tell me a little bit about yourself.
I'm from Dallas, TX. Since being with my partner, Jordan, who's a travel nurse, I've lived in 3 different states in the last 2 years. We love to travel in general. We're currently in Houston, TX with our little fur family! I'm very close with my mom. She had me young and since becoming an adult she's become my best friend. I appreciate everything she's done for me and the sacrifices she's made to make sure I succeeded in life. I couldn't imagine having a pre-teen at my age. I don't know how she did it, but I'm forever grateful!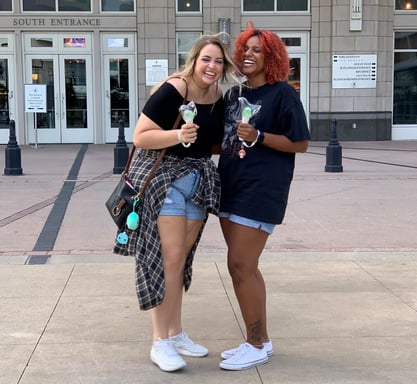 I love all animals – in my next life, I want to be Robert Irwin. Me and my partner love going to zoos. Any time we're in a new city we try to go to the zoo. Our goal is to find the best zoo in the country. I like going to anime conventions. I LOVE going to concerts, I'm a K-pop girlie (GOT7, Stray Kids, ATEEZ, Monsta X, and Dreamcatcher are my favorite groups). I met my partner at a K-pop concert (thanks, GOT7)! My favorite color is green, my favorite candy is chocolate, and my favorite drink is a blood orange ginger beer with or without a shot of gin in it from Rachel's Ginger Beer (my Seattle people know about this one!).
How long have you worked at PG and what has kept you here?
I've been at PG since August 2022! The dedication to a good work culture has kept me here. It's encouraged to challenge things, even your managers(!!), if you believe something is wrong whether it's an internal or external process. I love that I can have healthy conflict and am encouraged to talk openly with my coworkers. It makes for a way less stressful work environment.
How would you describe your job to your 5-year-old self?
I process payroll for a lot of people every week while auditing and checking for errors – all from the comfort of my home! If 5-year-old me knew I get to work while wearing fuzzy socks, she'd think I'd made it lol!
What does an inclusive work environment look like to you and in what ways does PG embody that?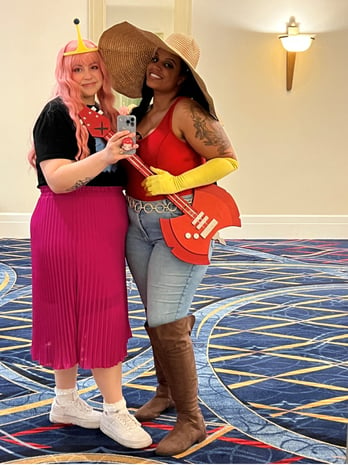 An inclusive work environment to me looks like a giant collaborative space. One where opportunities or promotional decisions aren't restricted by race, gender norms, sexual orientation views, or unconscious biases. Inclusivity is important for everyone because knowing a part of your life or identity can influence a decision that should only be performance-based is frustrating. I've worked at places where I was overlooked because of how I looked. I trained and dedicated most of my time at that company to take a certain role and at the end of the day, the position wasn't promised to me because I didn't fit the physical mold of the person they wanted in that position.
Since working at PG, I've joined the Pride Alliance ERG and that has helped me build trust in PG. I've met so many awesome people through that ERG! We have fun events and safe-space discussions. It's truly one of the reasons why I think PG is such a great place to be. Through our ERGs, we can meet with like-minded people, educate, and grow together. I've always been a very loud person when it comes to my values and the things I believe in, so having the Pride Alliance has allowed me to educate as well as learn more about my queer community, as it's such a big part of my life. I've been able to confidentially share my life as a pansexual and share my she/they pronouns and not feel like it's frowned upon in the workplace.
Congratulations on your graduation! Tell us a bit about your educational journey and what you studied.
Ten years ago, I didn't think college was in the cards for me. I was coming out of high school working a full-time retail job. My mom had always stressed the importance of a college degree, but it was expensive and I didn't want to take on debt when I didn't know what I wanted to do. I ended up taking general education courses through a local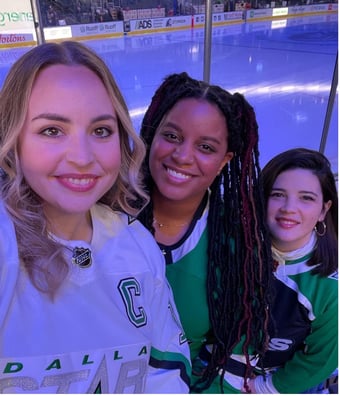 community college for four years, still working my full-time job and paying for my courses outright as I went and graduated with an associate's degree in 2019. In 2021, I realized if I wanted to work in HR management, I needed to get my bachelor's in business.
I quit my job at the end of 2021 to focus on school and at the end of 2022, I graduated with my Bachelor of Science in Business Administration with a concentration in Human Resources Management. I'm currently enrolled and taking online courses to finish my MBA in Human Resources Management. I'll be graduating next May! On top of that, because of course that isn't enough, I'm studying to get my aPHR and SHRM-CP certifications before the end of this year. I'm investing in myself now so that I can show I'm capable and competent in the HR space.
What advice would you give to other recent graduates?
If you're still hungry in your career and you're being told what you have isn't enough, keep going. I feel like I went through some stages of grief in a way. I was feeling sorry for myself after my first degree because it wasn't opening any doors for me. I thought, "If no one else sees the good in me, then I must not be good enough." I thought I was stuck. One day I woke up angry – I knew that I was more than capable and that I had a great work ethic. I decided I'm going to make it hard to turn me down. So here I am, not even two years later, with two degrees under my belt and another degree and career certifications on the way. Having the confidence in yourself AND the educational background to back yourself up will always work in your favor. It's tedious, and it's hard, but it's worth it.
Do you have a pet? If so, what are they like?
Yes! I have two dogs (Russell and Doug) and a cat (Tortellini). I want to get another dog and name her Kevin so we can complete our UP! Family. Check out their Instagram here!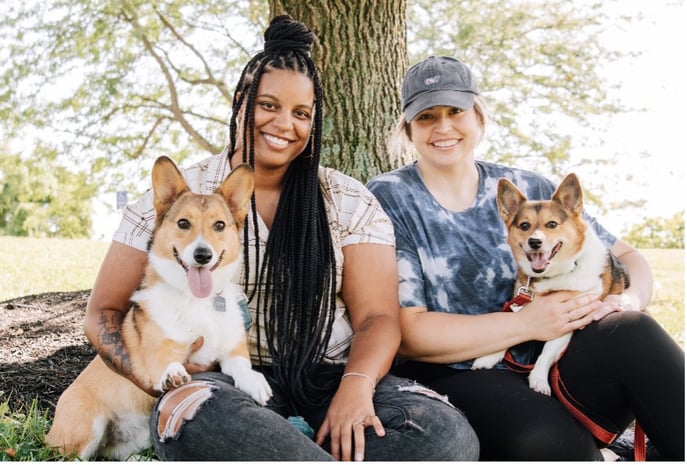 Recommend a book, tv show, or movie you recently enjoyed.
The Disastrous Life of Saiki K. on Netflix! It's a comedy anime. It's my comfort show. I can throw it on in the background while I'm doing something or sit and pay attention to it – it's just a good show. There are subtitle or voice dub options for anyone who's interested!
If you were a sauce, which would you be and why?
Spicy Ketchup from Whataburger. It's sweet and tangy, but there's a hint of spice that keeps you wanting more.
List anything else you want us to know!
I looooove going to hockey games. It's one of my favorite environments to be in. The energy is unmatched. I also like to cosplay. My favorite cosplay I've done so far was a couple's cosplay. Jordan and I did Bubblegum and Marceline from Adventure Time! I'm getting married in October! I love tattoos, I have a full sleeve and want to get my other arm done. I like playing video games. My favorites are Genshin Impact, The Legend of Zelda: Majora's Mask, and Animal Crossing. I play on different consoles, PS5, Nintendo Switch, and Nintendo 3DS. My dream once I get a house is to buy and build my own custom PC so I can play Valorant and League of Legends with my best friend and our online group of friends.

Until next time! Leave a comment below to shout out Tarryn and thank her for sharing!