"Climber Stories" is an ongoing series that highlights the stories of our amazing employees – "climbers" – at Populus Group.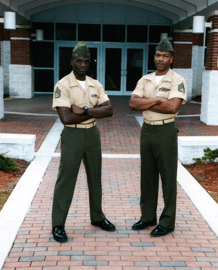 Three years ago, my work day usually lasted 20 hours. During the day I would work a minimum wage job doing day labor and at night I cleaned Century Link Field after Seahawks games (usually 10:30 p.m. to 5:00 a.m.). I'd catch a few hours' sleep and then go back to my day job.
I had been looking for stable work for a good part of two years with no luck. I was born in Uganda, came to America as a refugee, and served in the Marines for years. Searching for work in the civilian workforce was like nothing I had done before. Being a Platoon Sergeant or Convoy Commander is very different from being a Team Lead and companies just weren't seeing the same value in me that they saw in other civilians.
I knew that sending my resume out wasn't working. I had to do something to change my life.
Finding a job is never easy
I started going to every networking event I could to get some help. I met Populus Group through a Marine for Life (M4L) event. When I look back at the resume I gave them, I'm embarrassed. It was so badly formatted! But I learned quickly that Populus Group didn't care about my professional experience as much as they cared about my potential.
During my interview for a recruiting position they let me tell my story, and actually listened when I spoke. They saw something in me and took a chance on that. They believed I deserved an opportunity.
Words will never be able to explain how I felt when they offered me a job. The feeling of being able to go to sleep knowing that when I wake up the next day, there will be a job for me to go to, in an environment where my coworkers appreciate and value what I bring to the table… it's indescribable.
Seeking help is not a sign of weakness, but strength.
If you're a veteran struggling with your job search, do not be afraid to put yourself out there. It's okay to admit that you're having a hard time. There are companies that understand our value and organizations like My Next Move for Veterans have free networking events to help you find a job.
Not everyone will be familiar with the veteran community though, so patience is a virtue. If you have to explain some things over and over again, don't get frustrated. That perseverance will pay off in the end.
What you can achieve at the right company
I've grown a lot here in the last three years. By putting myself out there, I now get to:
Work for a company I believe in. I continue to work here because I believe in what the company is doing. Every morning I look forward to coming in and spending the day with my team.
Be challenged to do more. You are constantly challenged to get out your comfort zone at Populus Group and be uncomfortable. It is liberating.
Take advantage of new opportunities for my career. I see the potential for this company to do so much more, and I get to be a part of that process.
If you're thinking of working here, I want you to know that Populus Group is different. You will be challenged to get the best out of yourself. When they say that they believe in you, they really do believe in you.
Interested in a career at Populus Group? Learn more about us or take a look at our open opportunities.