I learned to ski the hard way. I was in high school and two of my brothers thought it would be fun to put me on the chair lift, take me to the top, and watch me fly, roll, and fall all the way down. It was fun…for them. I was fortunate I still thought I was invincible and refused to give them the satisfaction of quitting.
Fast forward and I'm about to ski for the first time with Santino, my 7-year-old. He's taken lessons and has a great grip on the fundamentals. It's time to get on the chair with Dad and have some real fun!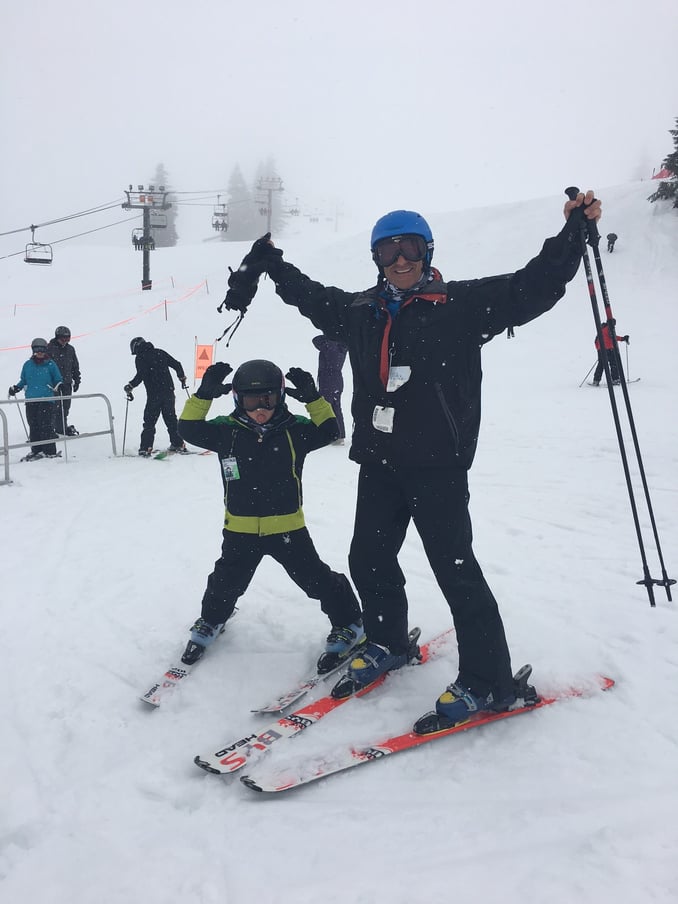 When load on the chair lift, high five, and he tells me excitedly. "Dad, I'm going to be better than Uncle Morgan!"
He's heard countless stories of his Uncle heli-skiing in Alaska and makes it clear to me he's going to be the best. We high five him again and I tell him another Uncle Morgan story while pointing at the higher runs on a different chair. Great guides fuel grit right?
We fly down the lower runs and we're having a blast. "Dad, I want to do the Blue runs! Can we go on Golden Nugget and Alpine!" He has no clue what these runs are aside from the stories I've shared about the mountain. He just knows their bigger and faster than where he's at now. "Heck yeah! Let's go!" We ski to a different chair on our next run down and his eyes are beaming with excitement.
When we get to the top I lead the way and am very directive on our first Blue run down. I guide him where to go, what to avoid, where to turn, and what lies ahead and he's still in full control. I'm simply skiing right beside him while coaching and we keep having tons of fun.
He wipes out, we laugh and dust it off, and knock out a few runs. Before long he's so confident he thinks he can do a Black run. Actually…he was getting a little cocky. I hug him and tell him we need to save that first Black run for Mom….she's a better skier than Dad and he'll need some really good tips from Mom so he can get as good as Uncle Morgan.
We tend to overcomplicate the steps we need to take to be a 2.0 version of who we are today. People that have transformed themselves know that you simply must do 3 things:
Know who or what they want to become. (Who's the best at what I want to do? Set a high bar like Uncle Morgan!)
Know what the next big leap is and just do it. (What's the next big step for me? Pick a higher ground and just go do it!)
Pick a guide you Trust. One that will truly listen, encourage, challenge, and use other trusted guides to get you to your ultimate goal. (We need encouragement and challenge and sometimes need to be grounded.)