Mark Twain famously said, "When I was a boy of fourteen, my father was so ignorant I could hardly stand to have the old man around. But when I got to be twenty-one, I was astonished at how much he had learned in seven years."
We hear you Mark. While no Dad is perfect, sometimes it takes a few years to gain the perspective we need to appreciate their wisdom. Father figures come in all shapes and sizes, and biological or not, they can leave a lasting impression on us and our view of the world.
In honor of Father's Day, our community of PG Dads shares insights they've learned during their time as fathers, lessons from their own fathers and a few Dad Jokes too.
Enjoy and let us know some of your favorite fatherly lessons in the comments section below!
You're Killing Me Smalls
Advice for Dad's with Little Ones
Joel Wisniewski, Immigration Counsel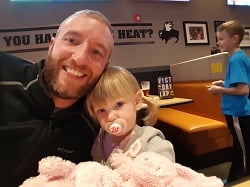 Do not give the kiddos chocolate, candy, ice cream or cookies … if they have just been disciplined by mommy.
Pictured: Joel and Zoey Wisniewski (not pictured Tucker)
Ryan Berndt, Technical Recruiter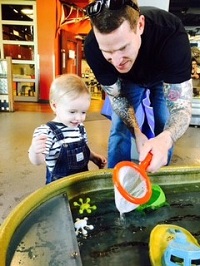 Have a barebones living room. The more stuff you have out and within their reach, the more they're going to want to mess with it. For whatever reason, your nice stuff is their favorite toy.
Pictured: Ramsey and Ryan Berndt
Steve Powell, Recruiting Manager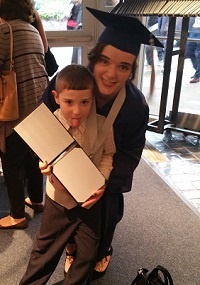 First, being a Dad is a young man's game! Kids will tire you out. That said, no matter how tired, stressed or under the weather you may be, your kids will value every second that they can get with you, even if they say it. They grow up so quick that you can miss out on valuable moments and not ever realize it.
My advice for any new dad; slow down and be a dad!!! Yes you have work, hobbies and friends, but nothing compares to the time you spend with your child. I am lucky enough to have a second chance to be a dad with my daughter being 18 and my son being 6. I wish I would have slowed down with my daughter like I do with my son. There is no substitute for the quiet time with your child at the end of the day, talking about their "highs" and their "lows," listening to their day and how they feel and why. No matter what you accomplish in life, your kids will be your greatest accomplishment ever, slow down and appreciate them the way they appreciate you!
Pictured: Steven and Briana Powell
Ryan Sikorski, Payroll Services Coordinator
Be prepared for anything. Keep extra clothes for yourself and your child in your car, you never know when you will need them. I strongly recommend a diaper backpack for carrying everything it really is way more convenient than the diaper bag. My wife Allison made fun of me for wanting it but now she uses the diaper backpack for everything and leaves the diaper bag at home.
Nathan Mayer, Regional Account Manager
As much as you would think infants would like bacon, resist the urge to actually feed an infant bacon. Apparently having teeth is required to be capable of eating bacon.

Only let your children watch movies/cartoons that you also enjoy, because you will be watching them over, and over, and over, and…..you get the point.
The Good, The Bad and The Dadly
Lessons from Fatherhood
Ed Herrera, VP of Workforce Management Solutions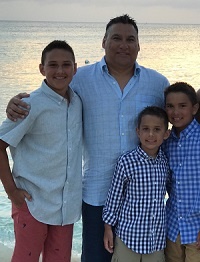 My kids have taught me to see and appreciate the uniqueness in every human being. My three boys are so different in their passions, their behaviors, how they learn and how they grow. So the advice I give to other dads out there is be YOU; be unique as a dad. That is the same advice I give my three boys. Be you and be unique.
Pictured: Eddie, Ed, Luke and Cruz Herrera
Raul Ramos, VP of Client Engagement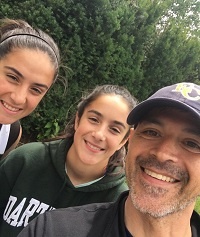 There are only two things in life that we can ever control as individuals, our effort and attitude, everything else is beyond our control.
Pictured: Kyleigh, Ashlyn and Raul Ramos
Tom Mehl, VP of Operations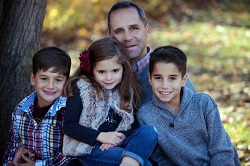 In the technologically connected world we live in today, be present with your kids when you are actually with them. Put the phone down and resist the urge to "work" when you are with them. They are watching and learning from everything they see you doing and you are teaching them how to be a great Mom or Dad when they grow up.
Pictured (from left to right): Zach, Kaitlyn, Tom and Ethan Mehl


Matt Mackaluso, Director of National Accounts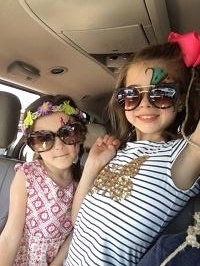 A daughter needs a dad to be the standard against which she will judge all men.
Pictured: Sophia and Harper Mackaluso
Jason Smith, Director of Customer Success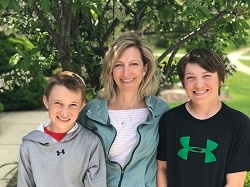 Be a silent source of encouragement. After coaching competitive baseball for over 10 years, I think if you ask most kids what they would want their parents to do during the game; they would say 'NOTHING'. I believe that parents feel that they must participate with loud cheering and, "come on, let's go, you can do it!" which just adds more pressure to the kids. You as parents need to be the silent, constant, source of support.
Pictured: Ethan (EJ), Kim and Nolan Smith
Brandon Bates, Regional Account Manager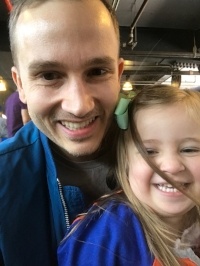 One time I was standing in a crowded Starbucks with my daughter and she turns to me in a proud moment and yells, "Daddy I did a fart!" I was shocked and just slightly embarrassed (red as a cherry). I hushed her and tried to hurry after I got my drink. I was telling another dad about it and he asked how I reacted; he asked why I didn't have fun with it. And to be honest it really made me think about how my daughter felt about the situation as well (after all she was proud as hell!). So moving forward you can bet I respond now with, "You did, so did I, high-five!" The fun of having an energetic, candid, smart little human as your best buddy is lost if you don't own it 100% of the time!
Pictured: Brandon and Madison Bates
Diego Dominguez, Professional Recruiter – MSP Delivery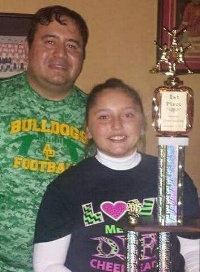 Lauren is the light of my life.
Pictured: Diego and Lauren Dominguez
Bobby Herrera, President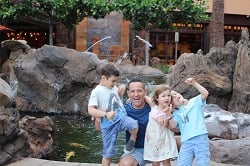 Let them be kids and fuel their grit and potential by giving them the gifts of struggle and failure. Nothing will help them more. It's counter-intuitive because it's hard to see our babies fall down. I've learned over time that my job as their Dad is to prepare them for the path – not prepare the path for them.
Pictured: Santino, Bobby, Sophia and Griffith Herrera
Michael Gardner, Director of Strategic Accounts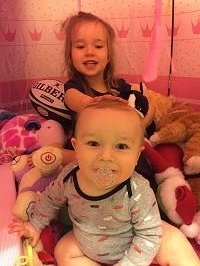 The best advice I've received:
Teach and coach in practice. Never in the game. Try not to correct, scold, embarrass or discourage them in public. Talk about it in the home and allow them the opportunity to practice manners and good behavior in public on their own. It will help their confidence in public interactions. (Nobody likes to be uncomfortable seeing other kids get scolded in public by their parents anyway). Also, when they surprise you for the better, everyone thinks their always like that…

Follow Through! Always do what you say you are going to. No empty threats or promises. When you set expectations, follow through on all of them good or bad. You will build trust with your kids and they are much less likely to walk all over you in the future. (They still might walk all over you, but it will be for a different reason. Lol)
Pictured: Valerie and Read Gardner
Dorian E. Cast, Immigration Operations Supervisor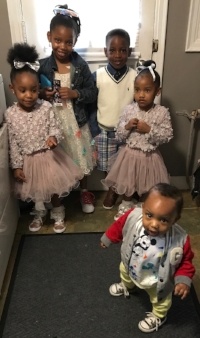 Words of advice: If you have more than one kid, good luck getting them to stand still and look in the same direction for a picture! Oh, and do your best to avoid the parenting peer pressure trap. Just because the neighbors five year-old is learning their 4th language, resist the urge to start comparing; as they say comparison is the thief of joy.
Pictured (clockwise from top left): Avery, Lauren, Dorian Jr., Addison and Ellis Cast
Thanks Dad!
Best Advice from Dads
Frank DeCastro, VP Channel Partnerships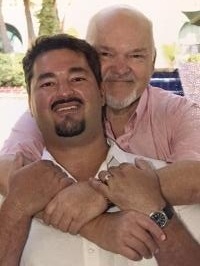 During my last two years of high school in Brazil I had two goals in mind, earn a tennis scholarship to go to University in America and save enough money to buy my first car. After a lot of hard work, I saved a couple thousand dollars for the car and earned a scholarship Ohio State University. On my last birthday before I left for school, my dad took my out to lunch. He took a small box from his coat pocket. My heart started pumping hard, I thought for sure it was a car key. As I opened it with as much excitement as I can have… I see something totally different than I expected. It was a lapel pin that said: BE PREPARED.
My Dad went on to say a few great things related to how important 'being prepared' was going to be in my life, particularly in this next phase as I was moving to another country, starting University, and having no family nearby to support me. I had to be extra prepared, had to see things two steps ahead of what I was seeing because it was going to be all new; new language, new people, new habits, but most importantly new challenges. So to BE PREPARED, was not a matter of choice it was a necessity to survive and thrive.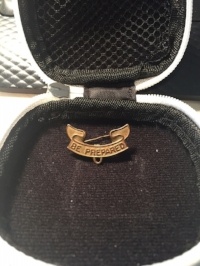 I had no idea how much it would actually impact my life throughout these years. That pin has been one of my most valuable possession and a lesson that I always pay it forward. Be prepared, be over prepared if possible, it will never hurt to have a plan B or C just in case.
Pictured: Dr. Marcos Paulo Pellicciari and Frank DeCastro (also the pin from that lunch!)
Farook Khan, Technical Advisor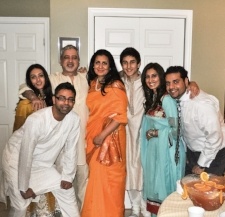 Sometimes I wish children came in with a Parenting Manual, but here are a few values that I try passing to my children that I got lessons in from my mother. The greatest women I have ever encountered.
Keep your children very close to you, give them values of love, forgiveness, honesty, integrity, generosity and faith and success, trust and respect will follow
Be frugal when you give them spending money so they do not fall prey to bad habits.
Pictured (left to right): Husain (son in-law), Radyah (eldest daughter), Farook, Bismah (wife), Shaad (youngest son), Nidah (daughter) and her husband Esa
Mel Mallinak, Executive Director of Strategic Accounts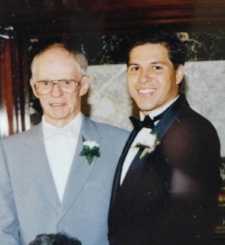 I received a lot of great advice from my father and here is a story of some advice he gave me long after I grew up.
I come from a small family (mom, dad and a brother that was 2 years older than I). I spent the first 12 years of my life on a small island in the pacific and then we moved to a small town in Oregon.
Fast forward 20 years later, our family was all together (now our family grew to my brother and his wife and their 2 kids and my wife and our 2 kids). We started telling stories about growing up and all the things we did and didn't do and laughed at the crazy things that happened while we were kids. After a couple of hours it dawned on my brother and I that they as we were growing up we never had a curfew and never really got grounded or scolded much. So we asked my dad why and his response was simple, he wanted to get out of our way and let us grow up and make mistakes to learn from. Why would he put up walls and constraints that would keep us from challenging the status quo? In his mind there was no better way to learn than from our own decisions and mistakes. He was always there like that safety net for the trapeze artist that allows them to try difficult tricks and raise the bar and always feel if something went wrong they would land safely. Thanks dad for letting us spread our wings and grow up. Rest in peace.
Pictured: Clarence and Mel Mallinak
Dad Jokes - the Cheesier, the better
Raul Ramos, VP Of Client Engagement
How does a penguin build its house? Igloos it together.

What happened when the two antennas got married? Well, the ceremony was kind of boring, but the reception was great!

How do you make a tissue dance? You put a little boogie in it!
Brandon Bates, Regional Account Manager
What do you call pigs that do karate? A PORKCHOP!!! HAHAHAHAHAHAAH
Tool Time - Dad Edition: Tools and Resources for Dadding
Tom Mehl, VP of Operations
Great resource – sign up for All Pro Dad. Get their daily feed and slow down to take the time to actually read it. www.allprodad.com
Bobby Herrera, President
Two things that have helped me become a better Dad are:
All Pro Dad's daily email by Tony Dungy

The Gift of Failure by Jessica Lahey
Brandon Bates, Regional Account Manager
Be Prepared A Practical Handbook for New Dads, by Gary Greenberg. Fatherly, All Pro Dad are great websites.
Jason Smith, Director of Customer Success
Having played sports (and baseball at a high level) and coaching for over 10 years (I currently coach a 14U travel baseball team) I use a ton of the principles Mike Matheny (St. Louis Cardinals head coach) talks about in his New York Times best-selling book, The Matheny Manifesto: A Young Manager's Old-School Views on Success in Sports and Life. The premise of Mike's book is essentially how adults are screwing up youth sports but more importantly how we as parents can do better and how sports teaches success in life. I see a ton of parallels with our culture and what Mike talks about. Also, I see a ton of value for all parents (not just baseball, applies to all sports) in this book – it is a great read!
Stay informed and inspired - subscribe and get great articles straight to your inbox:
If you liked this post, you may also enjoy: