Patrick Lencioni is a name everyone at Populus Group is familiar with. Each time we welcome a new Climber into our community, they receive excerpts from business books he has authored, Death by Meeting and The Advantage, to name a few. In fact, his philosophies on leadership and management have been woven into the very fabric of our Culture Code. Starting with Bobby and our entire leadership team, we believe that the value of having a healthy, trusting culture cannot be overestimated. To us, it's everything.
One of the many things we've learned from Pat (yep, we're on a first-name basis now) is the importance of making the time to step back, get strategic and look at the bigger picture. So each year, we evaluate the current state of Populus Group, we contemplate the future state, and we figure out a way to close the gap between the two. Last week was one of those times. The leadership team took a trip to The Bay Area in California for what we call a Day at the Pond—time to step away and reflect as a group. Bobby surprised us with a visit to Pat's office, and we spent an afternoon with him. We asked questions, we shared stories and we had some laughs too.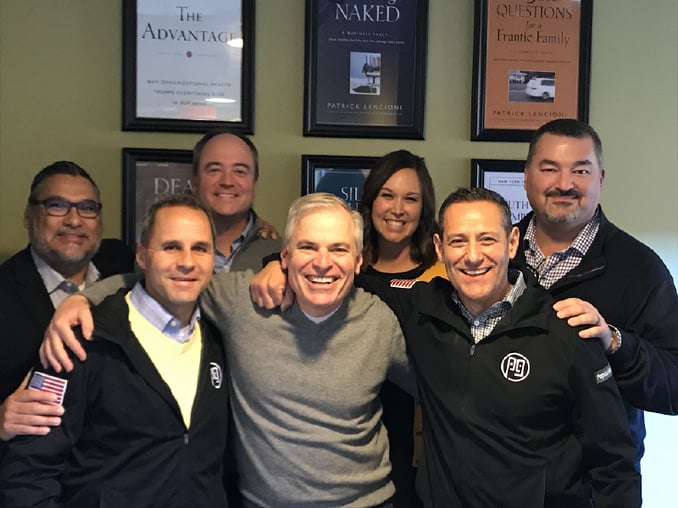 The PG Leadership Team with Patrick Lencioni at his headquarters, The Table Group
Clockwise from bottom left:
Tom Mehl, Ed Herrera, Jim Mann, Karen Philbrick, Frank DeCastro, Bobby Herrera and Patrick Lencioni himself!
Meeting Pat in person was really special for each of us, and for our community. Sometimes you realize you're in the middle of a full circle moment, and that was one of those times. Spending time with our mentor, exchanging thoughts and lessons, and gaining his first-hand insights into our organization was something that none of us will forget.
So with that in mind, each member of our leadership team would like to pay it forward and share their biggest takeaway from our time with Pat. Our hope is that you're able to take some of these lessons and apply them to your own life and organization, just like we do.
Frank DeCastro
My biggest takeaway from spending the afternoon with Patrick was that in his eyes, we as an organization are one of the best at applying what we've learned from his teachings to create a healthy culture. He validated that the effort we're putting in is paying off. He believes our culture is solid and that we're doing more of the right things than the wrong things. Our next step as a Leadership Team is to build on what we've accomplished so far. Right now, that means being more intentional about helping Climbers connect to our purpose. This will help increase engagement, develop other leaders and drive more ownership of output.
Ed Herrera
My biggest takeaway is quite simply the generosity of time shown by Pat, Amy, Tracy and the entire team at The Table Group. Pat is the Godfather of Organizational Health and to be able to spend a few hours with him and his team, getting validation and feedback on Populus Group's Thematic Goals was incredibly valuable. Thank you Pat, Amy, Tracy and everyone at The Table Group for the unmatched hospitality!
Bobby Herrera
What I took away from our time with Pat is nothing new to our community. It's the same message they've heard me say an infinite number of times: simple always wins and do things in the right order—trust before value.
Jim Mann
What stood out for me was the value of keeping things simple and straightforward. Sometimes executives feel the need to make things increasingly sophisticated and complex to justify their egos or the value of their services. Simplicity can be hard, and complexity is usually easy.
Tom Mehl
Pat's model of The Ideal Team Player, someone who is Hungry, Humble and Smart, was front-and-center for me. He gave us great validation that PG's application of the lessons from this book will pay off if we stick to the model.
There was another thing that stood out to me too. I thought it was absolutely amazing how humble he is after all of his career successes. He treated us like we were the heroes in the room and genuinely seemed to enjoy taking the time to talk to us. In particular, I overheard a short conversation he and Frank had as we were walking out of the room. Frank shared a life lesson that his Dad had taught him, and the way Patrick responded to Frank amazed me. He responded with such genuine conviction that you would have thought that Frank had given him the meaning of life. I was almost in shock as I witnessed the interaction. It was a really special moment.
Karen Philbrick
There were so many good takeaways but the one that resonated with me the most is his perspective on humility and specifically his advice to the team: don't become too cool. He shared an example of his time with the executive team of a widely admired organization and how despite the organization's size and revenue, the team's level of humility was one of their greatest attributes. One executive even took the time to pack him a small lunch so he would not go hungry traveling home. It was a small gesture but as organizations grow and leaders advance in their careers, it can be so easy to let the ego take over. Pat challenged us to embrace humility, celebrate our quirkiness and not become too cool.
If you have any questions or comments for us, please leave them in the comments section below!
---
If you enjoyed this post, you'll probably like these ones too: