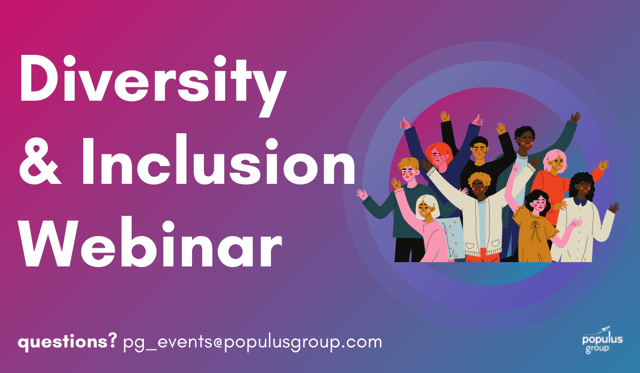 If Diversity & Inclusion isn't a priority for your organization, you're falling behind.
According to a recent study published by Forbes, 75% of employees expect their employer to take a stance on current societal or cultural issues, even if those issues have nothing to do with their employer. It can affect potential talents' decision to accept or decline job offers, or even apply to a company!
One of the most important ways you can show up for your employees and the community you're a part of is developing inclusive policies, supporting and attracting a diverse range of talent, and being open and honest about your values and where you stand. These things are critical when it comes to furthering social and racial justice. You may even be surprised to know this also helps the bottom line!
Studies also show that diverse and inclusive companies are more:
Innovative

Profitable

Competitive

Productive

D&I at Populus Group
Diversity and inclusion has always been a part of Populus Group's culture, weaved into the way we operate. As a minority and veteran owned business, it's more than an initiative to us; it's who we are and why we exist. While we've got a lot of work to do, we've made strides in evolving our diversity and inclusion, from recognizing Juneteenth as a paid company holiday to hosting Conversations That Matter on difficult topics to the creation of our Pride Alliance Employee Resource Group.
If you want to learn more about actionable and tangible initiatives and strategies, join us for our very first Diversity & Inclusion Webinar on Thursday, July 29 at 3:00pm EST! We'll touch on workplace, marketplace and community, as well as sharing a case study of what we've done.
Learn more and register here! We hope you'll join us on this journey to a more diverse, equitable and inclusive future.