It was a mild warm day at the end of September in Findlay, Ohio; the leaves were beginning to turn shades of yellow, gold and red. I remember the refreshing breeze on my face as we stood at my Father's graveside; we heard the trumpet playing, shots rang out, the flag was being folded and handed to my brother and me. My Father served our country in World War II, and as we laid him to rest with a Military honors, the significance of the moment exceeded my understanding.
Let's fast forward six years; my aunt, uncle and cousins came to our house for a visit on a Saturday afternoon. They only lived about 45 minutes away, but since everyone had such busy schedules these family times were precious. The visit began like most others; aunts and cousins cooking in the kitchen, kids playing (and fighting) and running around the house. Then the phone rang; the call would bring all of the day's activity to a screeching halt. It was for my Uncle John, a Major in the Marines. Our country had just entered the conflict that would come to be known as the Persian Gulf War. He was told he needed to be at the airport in a matter of hours and would be flying to Kuwait. We didn't know how long he would be gone, what he would be doing, or what kind of danger he would be in. We spent the next year thinking of him often, wondering how he was, sending lots of letters (and occasionally cookies), but most of all missing him a lot. I can say my family was (and is) so proud of my Uncle and the dedication and sacrifice he displayed for our safety and our country. While we worried about him, we understood we couldn't know the details of his mission, but that didn't make it easier when those moments of wonder would hit us. We always knew what was at stake, for him and for so many others, and their families.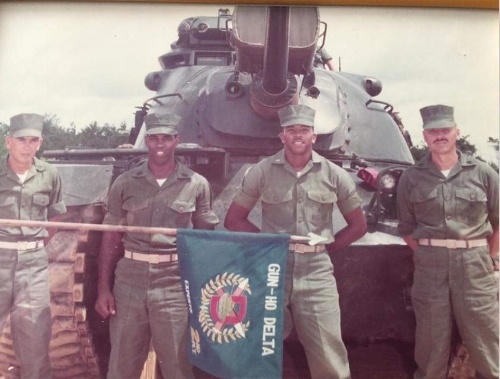 Irene's Uncle John Victor Stafford (second from right) in Okinawa, Japan
There have been many moments of pride and gravity for our family, as with all the families of service members. I remember our family beaming with pride during my cousin Daniel's retirement ceremony from the Pentagon because of the stories shared about how he had personally contributed to our troop's success during the conflict.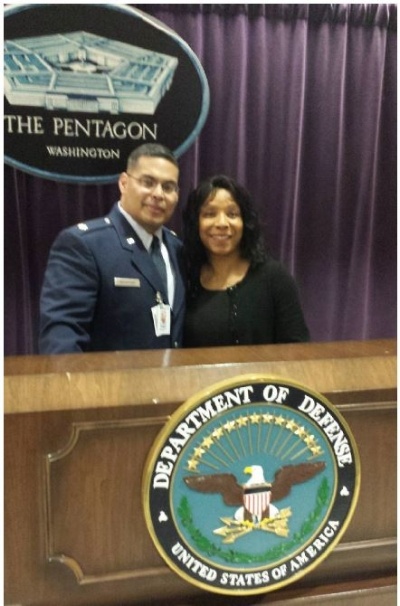 Irene's Cousin Major Daniel R. Woodford with his wife Cynthia at his retirement ceremony at the Pentagon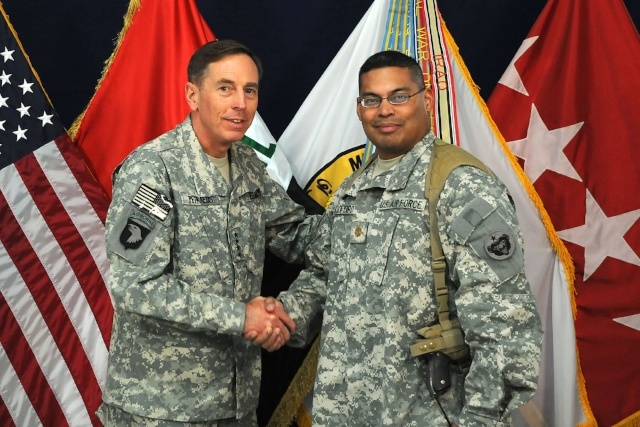 Irene's Cousin Major Daniel R Woodford (Marines) with General David Petraeus
I remeber standing at Arlington at a close friend's burial and how especially in moments like this, I realize that, although all my family and friends concluded their military careers in different ways, all of these incredible men have given their lives for our country. These ceremonies bring together not only the military community, but also the family and friends of the service members. In these moments, we see the emotion and the impact their service has on those who love them.
Though I myself have not served in the military, military involvement has played such a big part in my life. Beginning with my Grandfather Rollin and Father P.H., who both served overseas in WWII, and then my Uncles Melvin and John who served in the Vietnam and Persian Gulf Wars, and my cousin who worked for the Pentagon and served in Afghanistan during the War on Terrorism, from childhood to adulthood I've watched many family members' and close friends' passion to serve our country come to fruition. I've seen the sacrifices they have made towards that commitment. I've seen the many subtle and not so subtle ways their service has impacted their loved ones. The ways military involvement impacts not only the men and women who serve but also their families is not often explored and discussed but it is significant. I, like so many others, am humbled to be a part of their legacy of service. I am proud to issue my support as a daughter, a niece, a granddaughter, a cousin, and soon, as a Mom.
This year my husband and my oldest two boys, Tylor and Joshua, made the decision to enter the military. In a new way (both exciting and scary) our family is now entering a new realm of not only appreciation, but sacrifice. In less than two weeks' time we will be attending the Army boot camp graduation ceremony for our oldest son and early 2018 the Naval boot camp graduation ceremony for our second oldest son. Again we will gather together as a family beaming with pride at the decision they both have made; a decision to carry on a long family legacy of service to our country. This time the sacrifice and commitment takes a very different shape for me as a Mother. I am now the adult who understands the bigger picture. I am the one wiping the tears of their three younger brothers, answering their questions: "Where is Bubba?" "Why can't we see Bubba?" "Is our country going to go war?" "What if something happens?" As I answer their questions, I look back on the special moments of honor with a different point of view. While I have loved and appreciated all our service men and women do for us, this year brings me to a new level of perspective.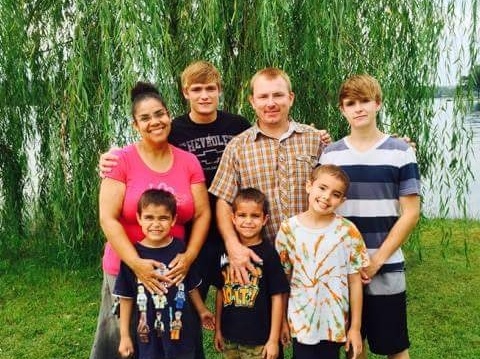 Irene with her family: Bottom row: Dawson, Noah, Jefferson. Top row: me, Tylor, Joseph & Joshua.
I don't have enough words to express how proud I am of the selfless and heroic service so many family members and close friends have made to our country over the past century. Veteran's Day is a time to honor all veterans; whenever and wherever they have served. I would like to thank all Veteran's for their contribution to our country and our democracy.
This Veteran's Day I would like to take the time to also honor the families and friends of these brave individuals. Your love, commitment, strengthen, courage, support and sacrifice make it possible for our men and women to carry out their service to our country. So I say Thank you! Thank you for sharing your loved one. Thank you for allowing them to miss birthdays, holidays and special events. Thank you for "holding down the fort." Thank you for sending them countless letters, gifts, and words of encouragement! Thank you giving your service member the ability to succeed! Simply put, thank you for your service!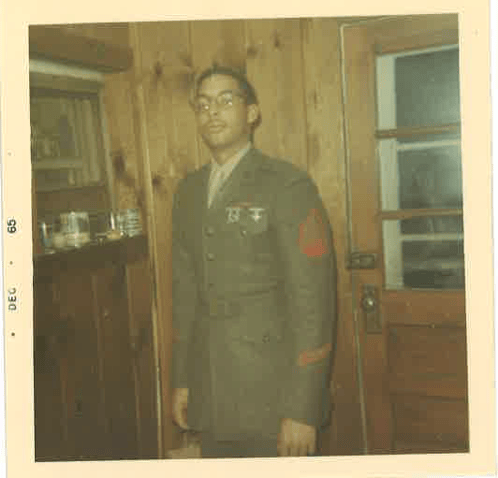 Irene's Uncle Major Melvin C. Woodford, Marine Corp.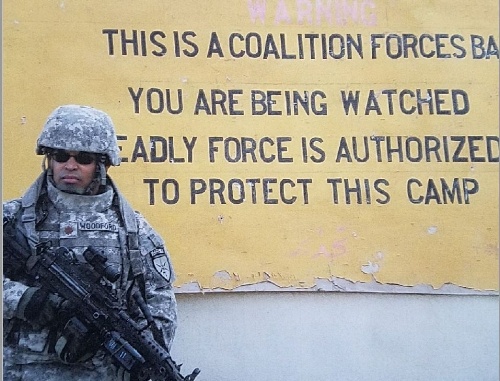 Irene's Cousin Major Daniel R. Woodford in Afghanistan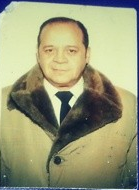 Irene's Dad P.H. Adams Jr., Marine Corp.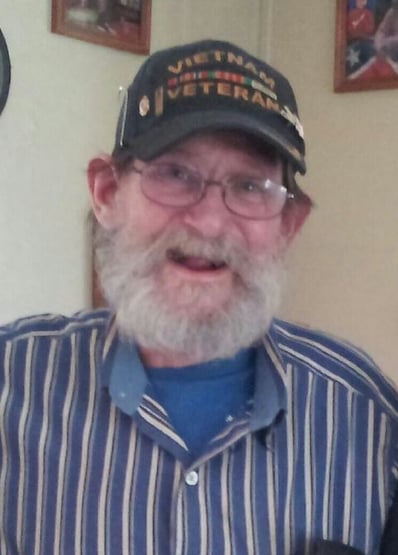 Irene's father-in-law, Army Veteran Paul W. Lawrence
Populus Group is proud to be a Certified Veteran-Owned Business.

If you enjoyed this post, you may also like:
What's the First Thing You Learn in the Army?
Celebrating a New Veteran Story This 4th of July
Stories from My Time at the White House